Discussion Starter
·
#1
·
It has been a seriously long time since I have even lurked on here. I was down to ZERO running, registered street bikes and concentrating more on racing my 24 Hours of Lemons car for the past 4 years. I didn't wanna hang out on a Cafe Racer (or any motorcycle) forum and be just another poseur without a bike.
But, after about 10 months of disassembly, cleaning, painting and reassembly I finally have a bike to ride, and something I feel I can show off on the forums. This is my 1972 CB750. I've owned it since 1994 (20 years now). I traded my first bike for it (1969 CL450) in Boston, rode it cross country, used it as a messenger hack in L.A. for years, and finally retired it when the 4th motor got tired. I would guess the only thing left from the original bike I started with is the frame.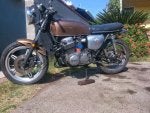 Its far from finished. I finally got it ridable, and legal, so now I'm riding it, but it needs tires and shocks, and I am hoping to mate from Suzuki discs to the stock Honda spoked front wheel so I can continue to use the CB900F twin piston calipers. Tank emblems are in the mail already, as are fork seals. I am still looking for a matching cast aluminum side cover for the left hand side of the frame as well, if anyone has one.
Lots of details here -
Part I
,
Part II
,
Part III
Huge facebook album with before and after pictures here - [h=1]
1972 CB750 Cafe Racer re-do
[/h]