I think would be a good thread for people just getting into the hobby as there are a lot of different thoughts on how and what to do. My thoughts are things are only original once, I would rather have a bone stock survivor then a bright gleaming over restored better than when it left factory car or bike. Don't get me wrong I love hot rods, restored cars and bikes, some choppers, bobbers and so on but to go and cut up a very nice car or bike to do it drives me nuts. Believe me I have cut up my share of bikes but never one that should be saved, I picked up two bikes this week and I will be going through both of them in this build thread. First the 1972 S2
One owner, 2497 miles, parked in 1972. Unfortunately it was stored in an open 2 sided shed with a dirt floor and a blanket on it, I think the blanket saved it because if it was under a tarp it would have been a pile of rust When I first saw this bike come out from under the cover I knew it was never going to be cut, painted polished or anything. Unfortunately the tank was rusted through on the bottom and the owner changed it out about 6years ago when he had big dreams of riding it again. Well he put gas in it and could not get it to start (big shock). Here's my point this bike has almost everything it left the factory with down to the plugs and the tires. All I have to do is find an original tank with factory paint it does not have to be perfect because the bike in not perfect but it has managed to remain unmolested for 44 years. I brought it home on Wednesday morning, went through the electrical system when I had lights, brakes and power to the points (very late night) I pulled the carbs and off to bed. The next morning cleaned the tank and carbs set the points next fuel. Well after kicking and kicking the bike teasing us with a sputter here and there than it ran for 5 sec. Kick kick kick 10 secs, 20,30, at around 40 or 50 I was happy that I had a solid motor, pulled the carbs cleaned them out pulled the exhaust to clean the crap that was blowing out of them fogged the motor and that is the way it will stay until I find a tank. This bike will never see the road again because it is sitting on 44 year old rubber and I think that is fucking badass. It would be a crime to cut this bike up or restore it. I would be all for putting new rubber on it and riding it now and then but that is not what I'm going to do with it.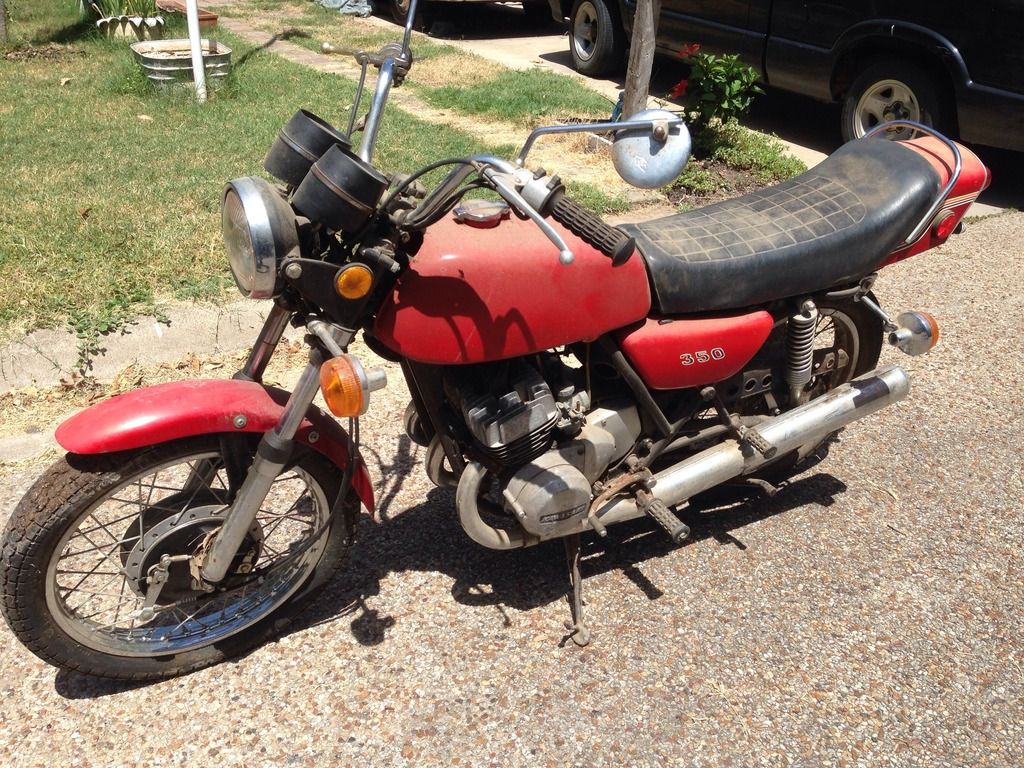 When this bike is cleaned up and a tank that matches is found IMO is a true survivor. Later I will follow up with the KH500.
This thread could take a while as I look for parts and such