During my surgery residency (which I just graduated a few weeks ago), one of our front desk greeters would always comment on my helmet - "nice helmet…full face…etc". I would wave and smile and make small talk, not thinking too much about it. She was around 80 years old, I thought she was just being pleasant.
One day she stops me in the morning as I'm rushing to rounds, "You know I used to ride when I was younger! It was a 2 stroke. Peppy little thing!"….2 strokes being a rarity I further enquire and run a short list of bikes (the RD series and the GT series). She kept saying No. Months go by and she says "Im emptying my barn and selling my farm, I found my old bike, wanna see it?". Of course!
I head over to her gorgeous farmhouse and huuuuuuuuge barn/warehouse (her family owned the lehigh valleys first and largest landscaping and farming bushiness) and in a small side room with a partially collapsed wall and gravel floor is a bike underneath a bunch of and tools. It smelled like cat piss and dirt. Flat tires, rusty, crusty but spun free and at least out of the rain.
Dig it out and its her DS7 250. Never heard of it, googled it and found out that its the precursor to the RD250. I see the potential and ask her what she wanted to do with it. She was downsizing and sold it to me for a fair amount. I told her id get it running for her and she would one day ride again. She told me about her husbands passing, his time in the service and her riding alongside his "honda 750" - which was sold long ago. One of her employees dropped it off the next day with the title.
Rusty tank, dead points, clogged carbs but good bones. I get to work on all the above….but its not easy operating all day and then coming home and wrenching after 3 hours of studying. impossible.
fast forward 2 years….i see her in one of my hallways on a stretcher…she tells me she was getting aortic valve surgery (basically open heart surgery). This lit a serious fire to get it done.
Lots of struggles in between to get it running and late nights with deadbeat mechanics (hired for diagnostic help) who failed to show up/point me in the right direction ….. but lets skip that crap and get to the pics.
This afternoon, as I'm studying for my boards and packing the house to move away to fellowship, I invited her over to see the bike. I cleaned the tank last night and finally buttoned everything up.
I had her pull the cover off it to see her reaction.
She almost cried when she saw it… "there she is! I remember her".
The wife used my daughters crayons to decorate a helmet for her and i took her on a spin around the block.
Today was a good day.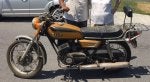 after a bunch of work and polish
Most of you guys do much more in-depth and comprehensive restorations, but i just wanted to share this story as a fond memory and experience.