Hey fellow enthusiasts, this is my first time posting a thread, so please be patient with my slow posting times and responses. This thread is about the first and only two motorcycles i own, and how i am building a cafe racer type bike out of them.
A bit about the bikes; My dad bought the two Suzuki TS185s a few years back. One bike slightly ran and the other has been sitting out of commission for quite some time, at least 8 years! Most of my family, (including my mom) has ridden or learned to how to ride on the working bike. So family ties are already strong. The running bike was being fed an oil/fuel mixture for as long as i can remember, and was mostly held together with duct tape... Now, the broken bike, all indications lead me to believe someone tried jumping it, and the landing didn't work out for them too well( collapsed the front forks, smashed up the tank, etc.) About 3 months ago i purchased the two bikes for $200 from my dad. I wanted a good summer project, and i love riding, but have never had my own motorcycle. I'm also a fan of vintage cars and bikes, which is where the cafe influence came from. After inspection of both bikes, i determined the non running bike would be the frame for my build, since both motor and tank were in better condition. So here's my build, i hope you all enjoy! I will be putting up as many photos as possible, here goes.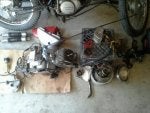 So what we are seeing here is the original two bikes, the frame and motor after being scrubbed clean and what most of the original parts looked like before being sent to powder coat.