Discussion Starter
•
#1
•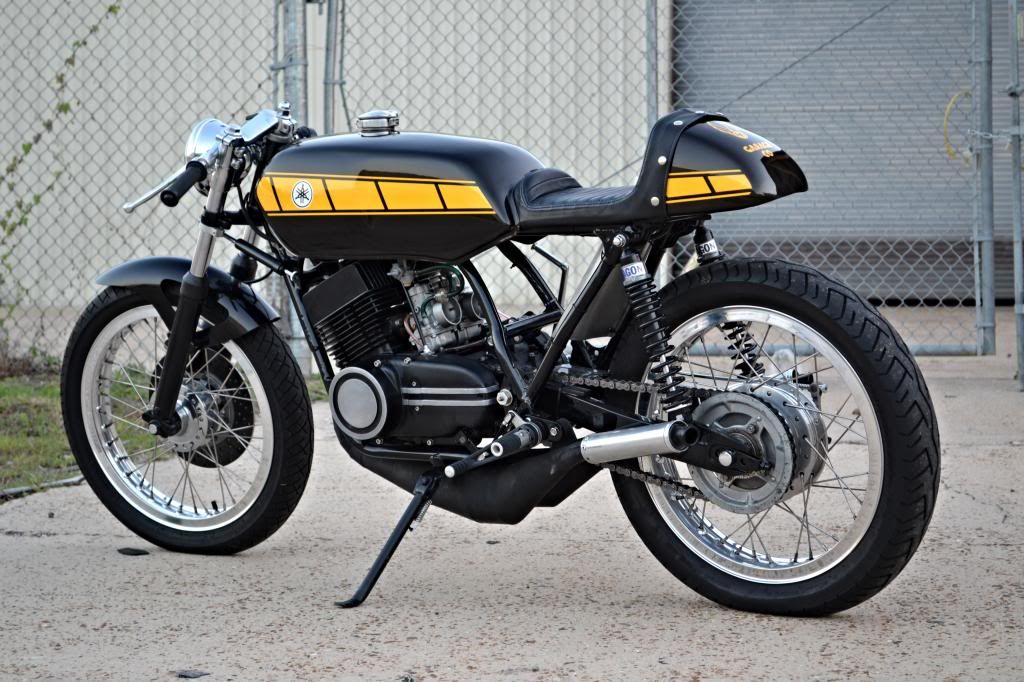 Bike is currently on Ebay​
Item # 190945433749​
Contact info is 832-216-1058
Here is the listing from Lossa Engineering
Cafe Racer TV approached us for season 2 and asked if we would team up with Yoshi from Garage Company for a build together. Of course I couldn't pass up working with him on a build. I supplied the RD400 rolling chassis and Yoshi supplied the RD350 motor and we never really discussed how we were going to build the bike after then. I did all the frame fab and bodywork and mocked up the bike then handed it off to him to put the front end on, build the motor and one off exhaust system. Then we got it back and I laid out the paint design and sprayed it and did the upholstery. After everything was done we met up at Willow Springs raceway to do the test ride with Eric and Ben Bostrom. They loved the way the bike was set up and handled around the small Horse Thief Mile coarse. Bike is currently register and titled, ready to rock! Own a piece of history!!
Check out the Cafe Racer TV episodes of the build:
episode 14
episode 15
episode 16
Videos are also embedded at the bottom of this auction.
Lossa Engineering Specs:
frame de tabbed, braced and hooped
relocated battery and wired from scratch
stretched Daytona gas tank 2 1/2″ and lowered 1″ on back bone with custom Monza cap
used Sr500 gas tank to make custom tail section
Custom black leather pleated seat
supplied Custom aluminum swing arm, Hagon Racing shocks, steering stabilizer
Custom House of Kolor black gold paint with pearl yellow & white graphics
Garage Company Specs:
Re-built complete RD350 motor with all new parts
Mikuni carbs
Supplied rare Yamaha TZ top triple and race fender
flanged hoops laced with stainless spokes to Yamaha front hub & Honda rear hub
Hand built complete exhaust from flat metal, hand rolled and tig welded everything
Supplied rearsets, Yamaha front end, race tires, all controls​