Discussion Starter
·
#1
·
Ok guys:
here is a chance to relieve me of a mass of stuff and get a good deal in the process.
I have a 1978 GS750 for sale. The bike runs, was registered, the inspection expires this month. Has about 20K on the clock. The electric starter works intermittently, it is a short I have not found yet. I can usually start the bike within the first two kicks when I have been using it, 3 when she has been sitting. tires have lots of life left in them. the slow jets are currently clogged from sitting so it needs choke for longer than usual (about 10 minutes or until fully warmed up). I really don't want to be bothered with cleaning the carbs, hence the low price.
Bike comes with:
1977 gs750 parts bike with a good engine and 8800 miles. This was my original project bike but I didn't have a title for it so I have been robbing it of parts for the 78. It has spoke wheels where as the '78 has mags.
clean rust free front end. both the forks on these bikes have small pits up by the headlight area. I have these forks in super nice shape for when I was going to restore the bike.
Second set of bodywork including sidecovers. custom rattle can painted silver fade to (sunbleached) flat black. gives it a real mad max feel. The bike has clean stock blue paintwork on it now which looks nice but has a small dent. The second set looks ratty but has no dents.
3 stock seats. Everytime I saw a nice seat for a GS at a swap meet I bought it. These pans rot like crazy. the seat on the bike now has a rotted pan, but I have 3 rot free, rust free stock seats - 2 in the stepped 78 style and one in the 77 bench style.
Misc bobs and bits I have lying around for the GS750s including a back rack.
I will try to get current pics this weekend if the weather is nice. In the mean time I have pics of the bike when I first got it (without the blue bodywork), plus pics of the parts bike.
$900 - which isn't bad considering what you are getting. I am pretty sure I can sell the seats on ebay and make back most of that.
if interested e-mail me at:
[email protected]
if not sold by sunday she goes on ebay.
Bike when I brought it home: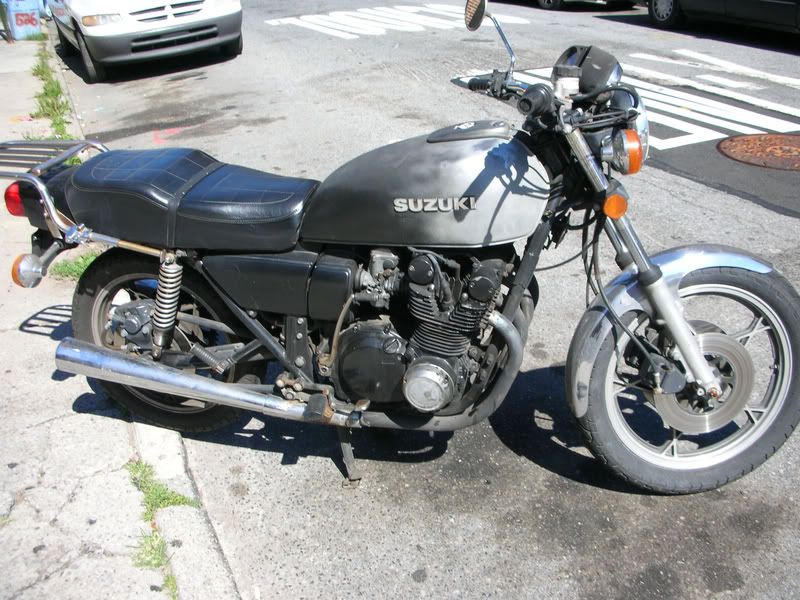 Parts bike when I brought it home (the blue on the tail is the same blue on the 1978: