Discussion Starter
·
#1
·
Looking at maybe buying a 1978 Honda CX500 this weekend. I wanted to post the details that I received about the bike and get some feedback on whether it seems like a good purchase for the price (asking $2,800). I'm likely to tinker with the bike over time but not wanting to throw money at it immediately.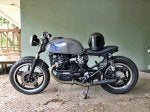 Any advice or thoughts are welcomed.
"New after-market carbs New Mechanical Seal Upgraded alternator and Electronic Ignition System - Hall Effect Upgraded radiator fan to an electric Ducati Fan Leather seat with tail loop New Rear Engine gasket New oil filter New engine bolts Painted the Engine with high heat Black Paint Powder Coated frame New head light New exhaust and mufflerNew fork seals New tires Upgraded front disc brake Everything has been re-greased and oiled and she's ready to rumble. The only thing I did not upgrade was the tank. The previous owner had redone the inside of the tank - so it works really well, it just isn't pretty. There are workmanship flaws in the tank and a dent in the tank from it being dropped (not the bike, the tank)."
"As far as running the bike, its great - but like all vintage vehicles it has its quirks or 'unique characteristics'. It needs to get warm, and likes to run at a little higher rpm at stoplights. I think its the new carbs. I'm not sure if it's getting enough air- or if the fuel line to the carbs are giving it enough gas because sometimes it'll idle off. That's the only thing I haven't given enough time to figure out - but it doesn't affect its reliability enough for me to care. I can show you what I mean when you come see it."