Discussion Starter
·
#1
·
Hello everyone-
I've been wandering these forums for months now finding some great info! I'm posting now because I've not found what I am looking for. I have a 1979 GS550 that is great, ride-able post restore project. I found oil leaking from the between the head & block near the Exhaust manifold and decided the winter would be a good time to replace the headgasket. I'd assumed that the carburetors were fouled. I could only climb hills in first gear, the bike dies outright if you opened the throttle all the way from a stop, and It doesn't have enough power to cruise over bout 50 mph, not to mention the smell and signs of an engine running too rich.
Anyhow, to my problem: I purchased a carburetor rebuild kit for a 77-79 gs550 and found the the rebuild kit I purchased has parts that didn't match what I pulled out of the Carb.
In the photo below, the hardware above came from the rebuild kit, and the hardware below came out of the carburetor.
Many bits do match, but plenty do not. My parts supplier suggested that the carburetor could be from a 77-79 gs 650, 750 or 1000. Once the GS 550 hits 1980 and up, the carburetor looks quite different. I took some photos below can you name that carburetor?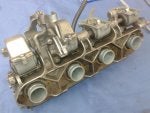 Any help or identifying marks that can help me figure out what type of Carburetor I have would be great. Thanks!
T