Everything CaTac said. Your bike looks to be in pretty decent shape with the exception of missing exhaust and carbs. Focus on function with any mods. Get the maintenance done and get it running and riding so you can figure out what it needs. CaTac mentioned valve adjustment. These things have stupid small lash clearance and the checking interval is every 3000 miles (basically every oil change). This needs to be done before you even try to tune or sync the carbs.
Personally, I'd forget the typical "cafe racer" look. IMHO, these things look stupid with a typical bum stop tail. The rear wheel ends up too far back and the big four cylinder engine makes it look unbalanced.
I will say this, absolutely FORGET about pod filters... even good ones! Starting in 1980 Your bike came with vacuum side CV carbs. I'm not one to say they can't be tuned to work alright with pod filters, but "alright" won't be good, and without a crap ton of experience, knowledge and probably some machining, the best you will end up with is a compromise. It may run good at WOT but stumbles on throttle transitions. Or you may get it to react well to throttle changes, but it falls flat on full throttle. Those CV carbs rely on the predictable still air in the air box to operate the slides. There's a thread on here titled "A Pod Thread for Geeto" that is worth reading. It is more about the mechanical slide VM carbs on my bike than CV carbs, but all the issues apply PLUS about 20 more when it comes to pods and CVs.
You can read through my "winter build" that has turned into a 9 year evolution and see how I worked through many of the pitfalls that started with the previous owner and some pitfalls of my own making.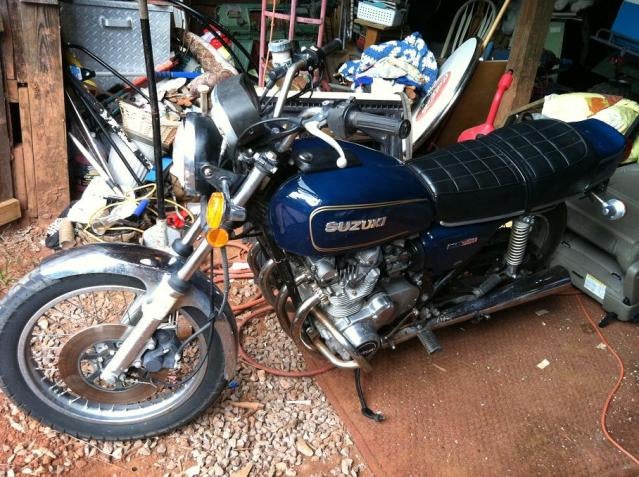 I'm new here, but have been working on and riding bikes for 30 years. My first street bike was a 73 CB500F that was mildly cafed, 24 years ago. Back then I didn't have the means or the facilities to really do it right. Since then I did a bit of road racing, built all of my race bikes and have...
www.caferacer.net
Good luck and have fun.