Here's the base for this project; a 1980 Honda CB750F Supersport.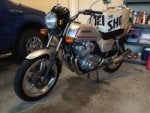 it has 13,400 miles on it. was restored two owners ago and generally a great bike. I've been riding it now for about 5 years. and yes, I don't put too many miles on it each season.
For those who followed my previous build of a 1982 CB900C, you know I pretty much did everything NOT by the book. That project was a budget build and ultimately turned out ok. it was a great learning experience even though I had to take alot of sh!t, er...heart felt criticisms for the things I did.
For this project, I plan to do things much differently. First off, please note this will NOT be a budget build. I intend to make some pretty cool modifications to the engine and overall look and feel to bring this to a much different place. Still planning it out, so stay tuned, if you're interested. if you have any ideas or recommendations, please let me know.
PS. another poster to a different CB750F build said this, "...I just wish people would stop ruining motorcycles in the name of art. If you are going to tear into a perfectly good motorcycle, do it to make it go faster." To be clear, making it go faster is exactly what i'm going to do!