Paint scheme - I was not being sarcastic at all. I was at spannerland last weekend and saw a heavy flake green rickman kawasaki with white scallops and also a ton of buco helmets in the heavy flake with paneled designs and stripes - and thought way cool!!!! I remember when guys used to have that 70's custom stuff around in the 80s as used bikes and then I used to think how ugly, it should be black or gray, now that most motorcycles seem to be black or gray I think about how cool some of that stuff really was ans wish people still did that.
the best I can offer is look at some of the helmets on this site for inspiration:
http://www.justifieddefiance.com/catalog/index.php?cPath=21_28&osCsid=6e6810ecef4403ffd16650c5ff981393
http://www.justifieddefiance.com/catalog/index.php?cPath=21_26&osCsid=6e6810ecef4403ffd16650c5ff981393
look through this blog post here - lots of chopper stuff but you will get the idea about the textures and paint.
http://nostalgiaonwheels.blogspot.com/2008_06_01_archive.html
Heavy Flake and candies are your friend. As are brown leather diamond tuck seats and hand laid pinstriping.
I am kinda digging the paint on this 60's drag bike - heavy flake with candy blue on top and while pinstriping outlines:
and the x-75 hurricane: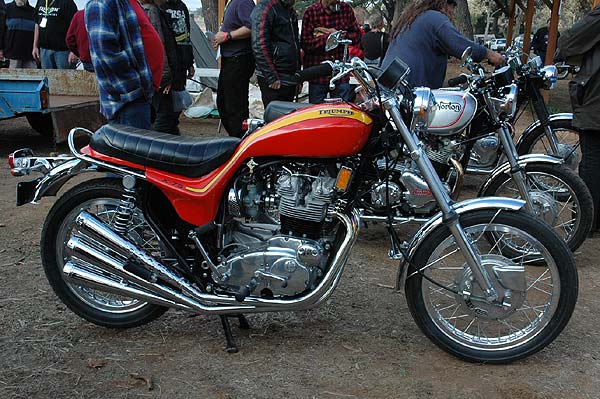 kinda grungy but you get the idea:
I am NYC based (brooklyn/queens). If you saw my work anywhere chances are I was riding it. however you can check out the gallery page on nycvinmoto.com (kerry's garage) and I have a few bikes there.