Discussion Starter
•
#1
•
Hello all, just thought I'd share my little project. Not a very inspiring base for a cafe project but I like a challenge.
Anyway, picked up this 1997 ER5 up 3 years ago as cheep transport to work. It's my first "big bike" and started my love affair with two wheeled transport.
Here's the bike stock, looks ok in the pic's but it's very tatty in the flesh.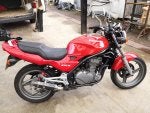 I'm a total novice at this really, I have built a drift trike in the past, and my first bike (Suzuki GS125) was also converted into a very basic cafe racer.
So any advice is really welcome, and I'll have lots of questions toward the end of the build, especially with electronics..
Cutting the rear end off was the fist big step, no going back now but I'm pretty confident with a welder so what's the worst that could happen!
Bike stripped down to rolling chassis and rear hoop welded in, you can see how crusty the frame is. Lots of sanding and grinding ahead to get it back to bear metal.
Started thinking about number plate mounting options, liked the idea of a swing arm mounted plate, I found an image of a ER5 cafe racer that had one and basically just coped that.
The anodised red plate holder was just a cheep thing I found on ebay, has the option to have the rear indicators mounted to each side, but I'm not going that route.
Next I wanted a way to keep the air box, just to save myself any headaches in tuning later on, plus the bike's overall design doesn't lend itself to the classic view straight though the frame look, so some form of panelling was a must to hide the ugly air box and electrical components.
I came up with the idea of two separate panels on each side, just enough to obscure the view of the internals that hopefully when painted to match the frame will just look as though they are just parts of the frame.
this is how it looked pre paint!
All this was done in the summer, but I bought another bike and spent more time riding then building. Ive dusted all the parts off a few weeks back, got the engine and frame painted and back together.
so this is where it's at at this point.
Still deciding on a final colour scheme. I'm leaning towards the red and black, but with the wheels white, and a but of white on the tank to set it off.