Discussion Starter
·
#1
·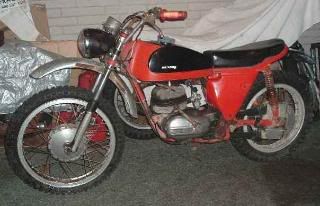 Hey, Guys and Gals.
Well, since I've got my rolling chassis and fiberglass at Lossa Engineering in Lakewood, Ca for some fit up mods, I thought I take an hour or so to start my official build thread.
History: My neighbor had seen my complete builds of an 86 Honda VFC 700 Magna and an 86 VF 700 Interceptor. He comes out to the shop one day and says he knows a guy who might be willing to part with his beloved 67 Bultaco M26 Matador. Hmmm. - " always wanted a Bultaco" says I, "how much filthy lucre do ya think he'd take for it" " I don't know but he says it's in great shape"
Couple weeks later I finally go to this guys house and this is what I see. I don't get the pipe or the lights in the deal and "it is my Dads beloved cycle and I really don't want to part with it" ( Uh-oh, I've heard this before) " I thought I heard it was in great shape?" -
"well, you don't have to do too much to it, the motor has been rebuilt so it's fine" (Sure it is, pally - we'll see)
I make my offer and he says "Well, I was hoping for a little more because on E-Bay these Bultaco's are classic bikes and go for a lot more" - Yeah, this guys got all the cliche's down, thats for damn sure, right?[8] "Alright homes, save the bulshit because my ears are gonna fall off in a second here" I'll take it off your hands, help me load it up in my truck" I fork over the hard earned payola for this rusted out piece of crap and drive home. This was 17 months ago.
For 3 months the bike sits in my garage over by the rest of the garbage while I ponder over yonder at my Yamaha MX 125 build for vintage cross. I have fun in local club races and AHRMA regional stuff here in Southern California. One day I'm watching AMA Superbike from Laguna Seca and the thought hits me like a ton of bricks - I will turn that Bultaco into a Road Racer!!!! WTF? Let me get this straight - You're going to take a trail bike and run vintage rr with the Honda's, Yamaha's and Metralla's?
And away we go! -
I go out to the garage on Saturday and with a heavy heart and a handful of metric wrenches, we " get after it"
The motor is pulled and sent over to Scott Clough Racing Engines for the full race treatment - spare no expense, right. whatever it takes.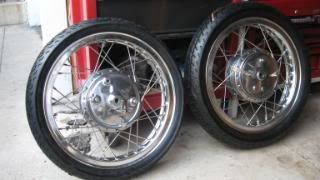 on
I get full race V2420 shoes mounted on a Honda 350 front and I go ahead and keep the Spanish OEM rear. I polish my guts out on the hubs and Betors. Brand new spankin Excel high shoulders laced up from ( helluva nice guy, btw) Michael "Mercury" Morse at Vintage Brake - Vintage Brake did the brakes too, arced, the whole nine.
Dunlop K85 and KR 125 from RC Barker Engineering. Four Star service from RC Barker!!! Highly recommended!
While I'm waiting for this to be done, I go ahead and send out the frame for bead blasting. Bring on the paint. Vintage Koni shocks from FleaBay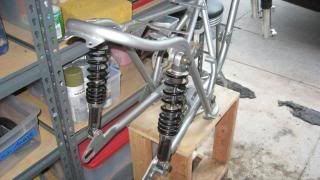 and . . .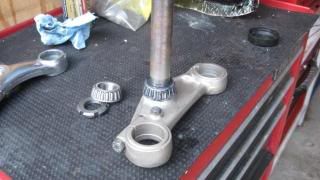 tapered head stem bearings from Sammy Miller in Jolly Olde England (Ka freeking Ching!)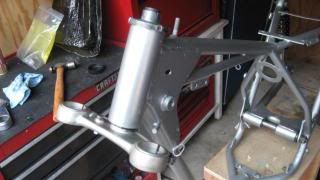 All new wheel bearings from Johnson and Wood in L.A and a new 520 44T rear sprocket from PMP Custom Sprockets ( just send them your old one and tell em what you want, what could be easier for vintage racers?!?)
Here's the Honda CB dual leading shoe set up ( this turned out to be a pita, let me know if you need help, I consider myself somewhat of an expert in knowing what NOT to do. Good to go now though!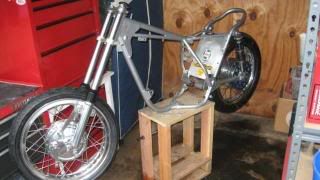 I pick up the A and B motors next weekend and the roller from Jay at Lossa (sporttrucks on caferacer.net) I will return with more pics.
Special thanks to CafeRacer.net for all the inspiration!- you guys and gals RULE.
Scott Clough Racing Engines, Yucca Valley, CA
RC Barker Engineering, Fla.
Vintage Brake, Ca.
SammyMillerUK.com
AHRMA
Circle F Pipes, Tejas!
Lynn Mobley Bultaco, Nv.
Hugh's Bultaco and Tim Weaver, New York.
Air Tech Streamlining, Vista, Ca.
I'll be back.