Folks from CustomFighters or XJBikes might recognize this build. Figured I'd post here because while not a traditional cafe bike (by a long stroke) the cafe look was a pretty big influence on its inception and the concept of taking something not fit for racing and heavily improving it is very key here. Been wanting to do a custom bike for... maybe 20 years, but this is my first, and seems a neck-deep plunge! Engine and wheels are staying stock because of cost and because I want to get riding sometimes this year (hopefully early summer), but suspension and controls (and obviously body work) are changing radically. Front brakes might get an upgrade, not a lot of extra work when building a full front end. Not sure I could really better the engine anyhow, beyond the normal maintenance. Hopefully once I get past that and have some confidence in the build, I'll start improving other aspects (more horsepower, lighter wheels).
An idea what the bike looked like stock- very '80s techno-UJM.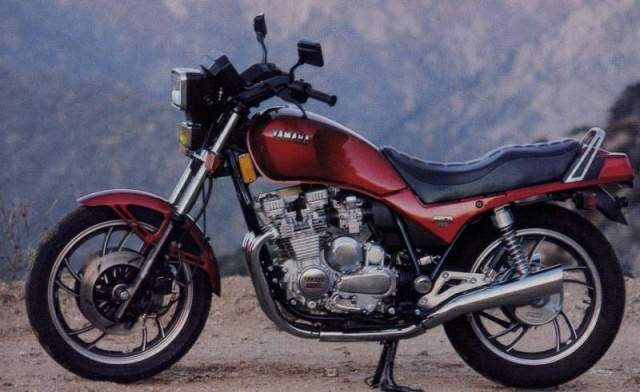 Current project status and planned front end are summed up pretty well in this photo. Body work was done last winter, tank is from a Yahmaha Virago, was given to me by seller to replace rusted out stock tank (which now lives out back as the cowl / fender). Seat and tail light come from GSX600, rear shock from BMW Montauk. Am looking at doing some glass work to cover the space between seat and frame, and smooth the tank / seat / fender flow.
Engine is in decent shape, want to do some external polishing and etching. Planning to etch this design (based on original Yamaha logo from 1812) into the clutch cover, using a laser cutter to burn away a plasti-dip mask and then acid etch & paint, then pull off the mask. Will also get a 4-1 system with under-body muffler and a custom air box (stock one won't fit due to rear shock location, hear bad things about pods and this bike's carbs, and I want the airbox for looks - clear plexi with a big automotive 'pod')
Other accents in mind include some brass inverted levers I picked up. Yep, the old Seca has its got CABLE ACTUATED dual discs up front (or certain years do at least, via cable aactuated remote cylinder) -
Combined with red anno aluminum and carbon fiber (rods will be used as steering linkages for the Hossack) -
Here's a mockup of the upright design, and some steel I've bent to build the working model (iteration 1)
Here's a screenshot of the software (form Tony Foale) I'm using to determine pivot configurations / link lengths.
Y1 ans Y2 are the hieghts (above ground) of rear pivot. X = 0 is based on the location of the lower pivot, so X is only specified for the upper linkage. L upritght 0 is the distance along the upright between pivots, L upright 2 is the total upright length. Some of the bike specs (re COG and Wheel MoI) are estimates, but they don't have a huge impact on behavior (only affecting anti dive) and my build is adjustable (via threaded linkage lengths etc) to compensate; once constructed and assembled I can take actual measurements and fine tune.
Design goals were to have zero wheel offset (minimal moment and wind effect) and move the front wheel back compared to stock (possible due to vertical wheel travel) with nearly flat dive / rake / trail figures (or, if not flat, increasing with compression), which graphs show this configuration achieved. 100% anti dive would mean braking has zero dive effect; this may vary depending on the actual COG and how I adjust certain linkages, but the shape of the curve will be fairly consistent (judging from trying various changes to those values in software). 50% anti-dive seems to be a popular figure to shoot for in racing due to rider preference for 'brake feel' (and habituation to feel from telescopic forks), but I'd like to run a bit higher for street use, and because I'm specifically looking to see what the absence of brake dive would be like in terms of ride feel.
Running under 100mm trail seems quite short, but reportedly with such steep head angles, even less trail is still quite stable. I'll be running a steering damper just in case, and trail will be fairly easy to adjust without impact on other characteristics.
The next big hurdle is to weld the mounting system for the A arms onto the frame. I've got a decent jig for doing that, but its intimidating because its requires precision both in location and the parts cutting (like locating a new swingarm mount using tube mitering onto an irregular surface) and I really only get one good crack at it. I suppose I can avoid doing more than tack welds until the whole system is in place and confirmed as running true / square, but still...