Discussion Starter
•
#1
•
So I bought this clean one owner out of Orange county California for the foundation of my build, smelled like cat pee and was full of fur and bugs.
Stuck it my fiends 85 Audi 5000 Turbo Diesel Automatic Station wagon and drove my prize home.
And now the fun begins.
The plan is as follows:
It has the better Keihin CVK36 carbs
Jet kit
DIY air filter box with foam filter element
Stock header
Reverse cone shorty mufflers
Modify the stock rear sub frame
Triumph Thunderbird Tank
Modified Thunderbird seat pan
TT600 clip on handle bars
Stock Damper rod forks with Race tech Emulators
Sonic Springs 1.00 kg/mm fork springs ( I'm a big boy)
Stock front 17" Wheel with Michelin tire 120 70 17
Stock Trophy 1200 rear shock without the hydraulic preload or external rebound adjustment, I might do a Hagon shock eventually.
Fork Brace
Triumph 17" rear wheel from Trophy/Sprint/Daytona/ T300 bikes
Michelin tire 180 55 17
520 chain conversion
Honda 1983 CM450A/VFR750 520 chain rear sprocket from Vortex
Honda 520 front sprocket
DID VX2 520x114 chain
310mm Trophy front rotors
TT600 front calipers
5/8" front brake master cylinder
Trophy 900 oil cooler and frame
Kawasaki ZX10r coil on plug ignition coils, the stock PVL coils suck
Ignitech programmable ignition module
APSX D1 Wideband controller, I cant help myself, grew up on fuel injection and I need some kind of data to make sure my jetting choices are working, forgive me.
That about does it, there will always be more but this is a good start.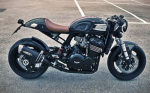 My Inspiration bike