The 36h 2.75x18 / 2.15x18 Akront TC set: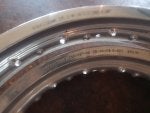 the 36h 2.75/2.15 set has generated some interest already as well. No done deal on either set yet, however. The two singles are up for grabs still.
I also have an old Morris Mag wheel with a Rickman bolt pattern sprocket carrier and disc rotor pattern. Cush drive side had been permanently welded on, no cush drive. 18"x2.15 or maybe 1.85? Can;t remember. Will sell cheap.
Also have 2 Rickman style dual disc hubs, Italian superbike brand Scarab-Mozzi-Moto. MV Agusta 750 Sport, Ducati GT SS Desmo, BiMoTa etc N.O.S. unused. One is missing a threaded in piece. other has this piece and NOS bearings with 45+ year old grease that has dried up solid. Both are same hub, I'm guessing the rear was different, but could be used as a front and rear set if you have a machinist friend or a rotory table and some sort of mill and some aluminum stock to fab adapters or just get custom sprockets and rotors.