Discussion Starter
•
#1
•
This is for a CB750k5.
I am interested to learna little about bike geometry. This winter my plan is to focus on the suspension and handling on my bike. Next winter I will focus on the engine and making a street worthy race engine, meaning I want to make the engine high performance but I will really only be on the street. Unfortunatley there is no racing around me.
Before I make my bike as fast as I can, i figure it should be able to handle the speed.
Right now the forks and shocks are stock and the tires are nothing special. it is only single disk in front and drum in back.
My plan is to rebuild the front forks with new springs and duel disk it. In the back I plan on fixing the swing arm play, new bearings (if needed), maybe disk the back break (any thoughts if this is worth it) and new shocks.
My question is, what is the best geometry for best handling. Should the rear be raised, lowered or kept the same? How about the front.
When I see a bike like the one below, it looks liek the rear has been raised by moving the shock mount forward.
[imghttp://i234.photobucket.com/albums/ee180/chrisadelman/CB750PostClassicRacer.jpg[/img]
This is my bike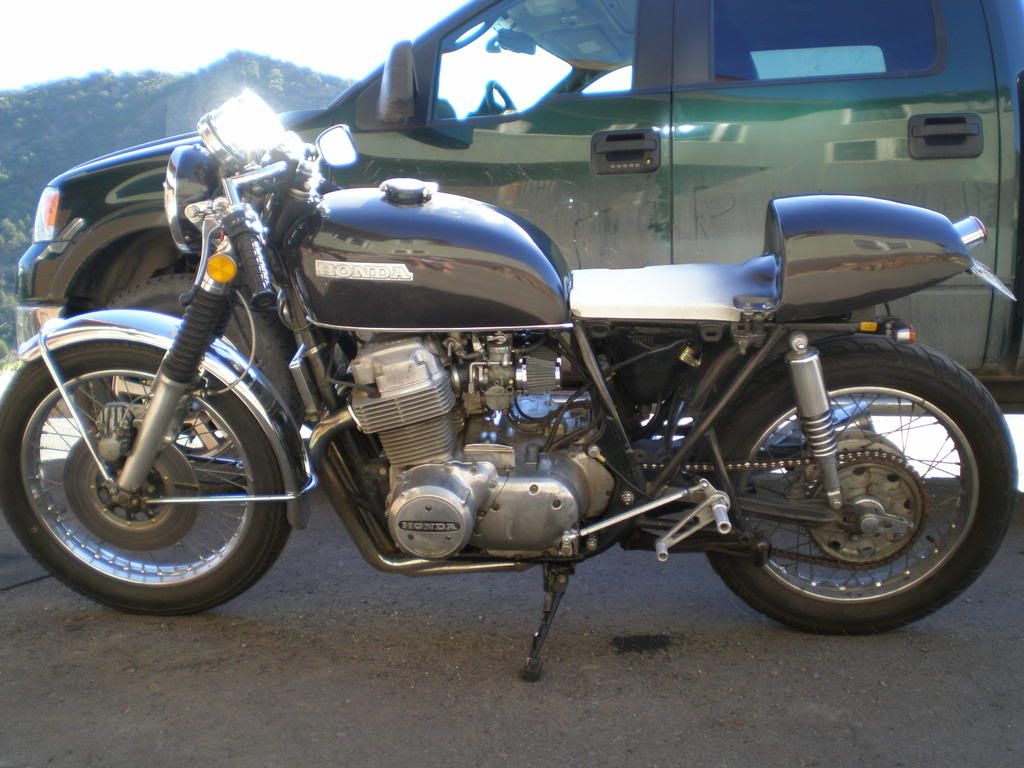 I just put on new front and rear sprockets and a new chain (neither are in this photo).
I am going to clean up the frame in the rear where it sticks out under the seat. While I am at it, it would not be hard to move the shock mount.
Tell me what you all know about bike geometry, please.