quote:
hey quicklime - I think at this point even you'll agree that the line between chopper and cafe racer can be blurry. There is a big difference between the ignorant "let's chop everything" wannabe meathead and real motorcyclists who are innovative and experimental with a lot of things and border on being artists.
Actually I'd be more in agreement with that statement if it was meant to say, in the early days ('50s to '60s) there was a blurry line between Bobbers and Cafe Racers. The bastardization, or morphing, if you will, of the former into Choppers is what created the distinction between the types. The true early Bobbers were bikes that had unnecessary stuff removed to be lighter and have the rider's own character, but not necessarily as performance enhanced as early Cafe Racers, some of which may have served dual roles as actual racers, too. But that's just IMHO. The problem with above stuff, while somewhat interesting and not nearly like the disgusting (to me) Choppers is that when you have an overlong wheelbase, and especially extended forks, you lose the nimbleness and flexibility that I think is an integral part of what a Cafe Racer, to me, should have and be.
Interestingly on that note, I myself have partly failed in that to a degree, because like others on here, my main Cafe project is built from "whatever I could scrounge from my garage" mentality. This meant using the Aluminum swingarm I'd obained when I bought 2 pickup loads of bikes and parts from a guy about a dozen years ago. It's 3" longer than the stock RD unit, so it's not quite as nimble anymore as my previously stock '75. If I ever find another like it, but shorter, you can bet it'll be changed.
For now though, I'm pretty pumped about the '75, because I took my first ride on it since putting the "new" J&R Chambers on it last weekend. Great power boost, but I didn't ride it really hard because I have the "white trash" rearsets thing going -- using passenger pegs until my rearset components come in -- which meant stabbing at air to shift LOL. When those are on and the new cut down seat is on, it'll be REALLY fun. Hell, it was a fun bike when stock!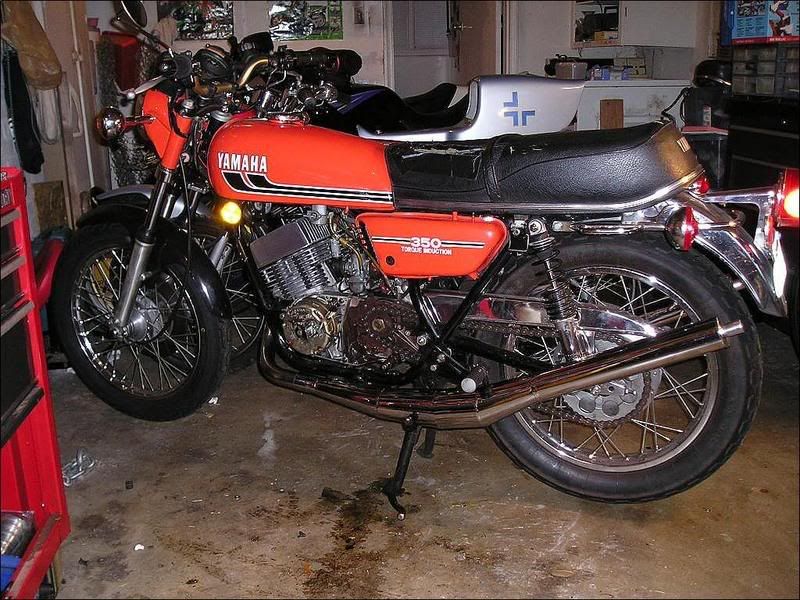 Edited by - Quicklimegirl on Mar 29 2007 09:36:19 AM