I drug home a pair of big BSA singles today: one a '67 B44EA (enduro model), the other a '71 B50T (OIF 'trail' model). I need to sell one and would like to build the other as a dual-sport/desert sled, using modern components where I can (alloy controls, alloy wheels, modern bars etc). Does anyone here have an opinion of one vs. the other? I know very little about the merits of each... I've always admired the 441 but read somewhere that the 500 was an all-around better engine.
Comparing these two specific bikes:
The B44 has a fresh +.020 top end (appears to never have been fired), Japanese (suzuki) front end with rusted fork legs, upgraded ignition module, custom mods consistent with racing (oil bag cutaway for air filter clearance, extended swingarm), large diameter headpipe, and no body work. Engine internals are unknown at this point but I wouldn't be surprised to find performance mods hiding away in there.
The B50 is mostly all there, but with a sun-baked plastic tank (tank would get swapped for stock steel or alloy), stock front end with very nice fork tubes under the gaiters and crazy monkey wide alloy bars. The clutch is toast on this one so I can't yet kick it over, but the engine is free and the cylinder is dry. Electrical components have been relocated and a capacitor scabbed on in place of the battery. Primary components appear nasty but may clean up.
The B44 sounds like the better bike at this point. Is there any good reason to go with the B50 instead? Both bikes are numbers matching... the B50 being more original may be more desirable to someone else? I was told the round barrel B44 is also more valuable to VMX guys?
I'm also looking for a pdf of service manuals for each if anyone has some secrets.
Thanks
Chris
B44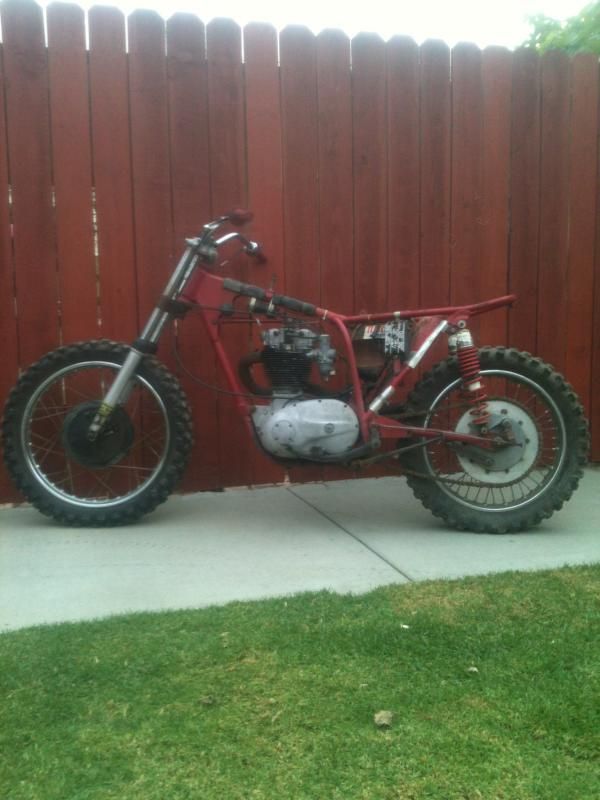 B50