Discussion Starter
•
#521
•
My father-in-law was a research chemist. One of his favorite aphorisms was, "In theory, there's no difference between theory and practice. In practice, there is."
It turns out that my design for the the threaded-together cross-shaft is fundementally flawed. Pushing your foot down on the shifter can exert a remarkable amount of torque. Instead of a nice, positive stop, the limit of pedal travel instead devolves into an indistinct, mushy feel as threads begin to distort. After a number of upshifts and downshifts, either a) one of the threaded studs backs off and the whole assembly goes loose, or b) the lever rotates so far out of its original alignment the other way that the mechanism binds before upshifts or downshifts occur.
I tried adding blue Loctite on the threads; it might as well have been apple butter for all the strength it added. Then I tried a dollop of JB Weld in the bottom of the internal shaft threads, thinking that would provide more positive resistance for the studs and magically stop the thread deformation. That was utterly ineffective, and one of the studs broke free within a few gear changes. So, as of right now, the whole shaft is basically glued together with red Loctite 271 — effectively turning the self-aligning flange bearings and shaft into a single, non-disassemblable unit. I'm letting the Loctite set-up and cure for a couple of days before I really mash on the shift lever, but I am confident the whole thing will eventually need a re-design. Maybe this would not be an issue if I were dealing with a new Japanese bike that has a slick-shifting, low-effort, extremely precise shift action. Bultacos, however, are cantankerous, stone-age things with high-effort, balky shifting that requires a LOT of pedal travel. It might work marginally smoother when the engine is running and the transmission shafts are turning, so I am going to continue with the next steps and revisit this once I have a running machine, but I expect to revisit gear selection at some point.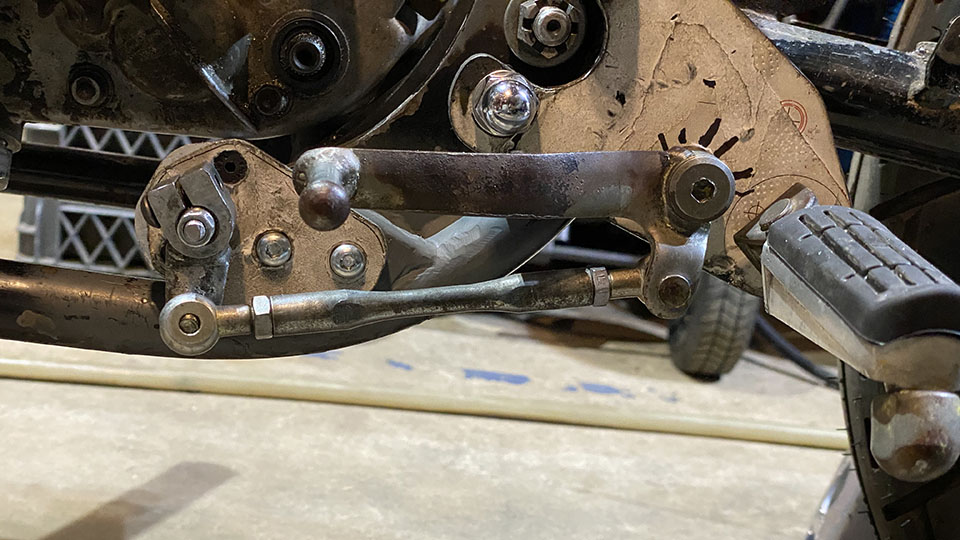 Here you can see a whole raft of index marks on the backing plate. Between upshifts and downshifts, I need the whole range of travel between when the rear of the pedal hits the footpeg and when the front rose joint binds against the bracket going forward.
The bent-up linkage between the lower arm and the stub of the original shifter is just a quickie proof of concept. The real component will be an alloy clevis threaded to a spherical joint at the bottom, which should eliminate some free-play.
I had to re-bend the shift pedal just
so
. I discovered that there's barely enough clearance for it between the arc of the kickstarter and the shift linkage, but it all clears as it's positioned now.