Discussion Starter
•
#1
•
Hi guys,
So I thought I'd post this up here to see if anyone around has any misc. parts that are local to NYC I can purchase off of them.
I'm taking my daily rider and stripping it for a moped race Oct. 13th.
http://northeastmopedracing.com/
What the bike is...is a 1979 General 5 C-2. It has a Italian Minarelli engine thats a standard topend as a Minarelli V1, but instead of a single speed transmission it has a dual variated trans. The bike has been my daily rider for the past 1 1/2 months and so far hasn't given me a single problem.
Currently consists of a Polini V1 80cc cylinder, high comp head I machined to match with the squish. 21mm Dellorto PHBG, and a cheapo pipe I had laying around the shop. Other than that...the bike remains stock with some small things I adjusted with the front and rear variator weights, lathed the front cheek to give more travel...I'm going to try some slight clutch springs later this week.
The pickup is good enough for city riding, the other night my friend on his Monster 750 was pacing me on our way home and got me at 57mph. This was wide open, but only had maybe another 5-7mph more to give if I had the room.
I was wondering if anyone local has any small fiberglass seats around I can buy off of them. This week, I'm going to be hardwiring the bike, stripping everything off unnecessary and safety wiring.
As I type...I'm about to put on some Cb125 front forks I've had laying around that I modified a downhill mountain bike front hub and mech. disc brake for, laced into a 17" aluminum 1.2 rim. Running 2.25 Sava's...just cause I had them laying around already. I kinda really wanted to try the Heidenau's that Tanner has...I rode on Heidenau k56's all of last season and they were a great street tire. Next step, I'm cutting and extending the swingarm 2.25" just to give me a little more. It's a very cramped bike, my ass hangs out far over the rear tire when I tuck in a bit with my monkey arms and long legs.
Also...if anyone has any .020" shim stock around?...I really could use just a sliver...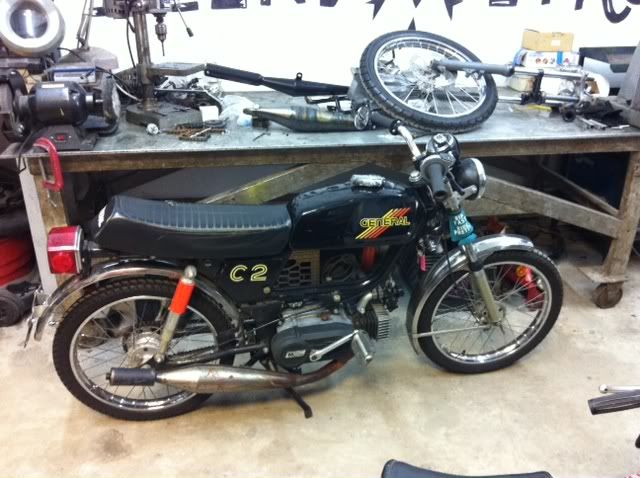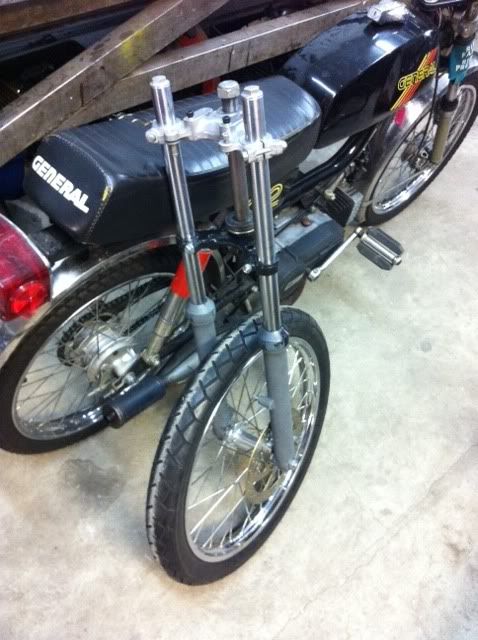 Puh puh please.
Love you guys all. Time to show these moped kids how to ride trackside.
Larry -