Discussion Starter
·
#1
·
I picked up a CB750k5 in October for $300. I knew nothing about how to work on the bike and when looking for info I came across this forum. I have been on here asking lots of questions and have received lots of good feedback.
My goal was to get a bike to use as a daily commuter. I also wanted to try to wrench on something so I thought a winter project would be good. When looking around for decent, cheap bikes I came across the cafe racer concept. I like going fast and I like the grass roots origin of the cafe bikes.
So I thought I'd try my hand at one. I was excited when I first got the bike and made a few poor purchases. The ergo air filters were one of them. The big issue that I have with them is that once you tighten them onto the carb, the rubber loosens up and the filter shakes around.
I did score a used kerker 4-1 and it makes the bike sound better and was a cheap fix for the rusted out original pipes.
Here is the bike i brought home: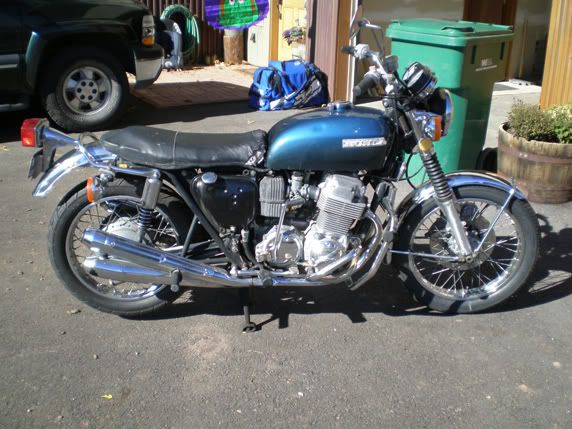 It did not run. There were no coils of plug wires. The front brake was frozen. There was no battery and the electrical panel was a field of rust.
So, after getting some advice off of here, I got some dyna coils, wires and electric ignition. Those parts came with good instructions and I was easily able to install all of it.
Once I had coils and did an oil change I pirated my MX battery and tired to start it. All I got was a huge backfire and a couple foot flame shooting out the pipe. While it was cool, I knew it wasn't right.
Again, someone on here set me strait and I found I had the wires routed wrong. I got that sorted and it started, but was rough.
I was psyched to get it started so I cruised it around the block. I found that the stuck front brake broke loose once I put it in gear but didn't engage when i went to use it. The back break was useless so I did the fred flinstone stop.
I pulled the front brake and took it apart and cleaned everyhing but the piston (which I am going to do next). It worked way better.
Next I took off all the lights, crash bars, highway pegs and luggage rack.
Then I tore into the carbs and ended up with four rebuild kits.
The hand controls were useless. They were cracked, buttons missing, hand been rigged to work, and ended up worse after i traded out the stock bars for the clubmans.
FYI, you can still buy the stock right hand control for $50.
I bought an after market left hand switch, rewired it to work, and stuck it on.
I put on new turn signals and have a low profile cat eye break light. The turn signals are cheap, but they were cheap.
I am going to shorten the rear fender just above the odd welds that were on there.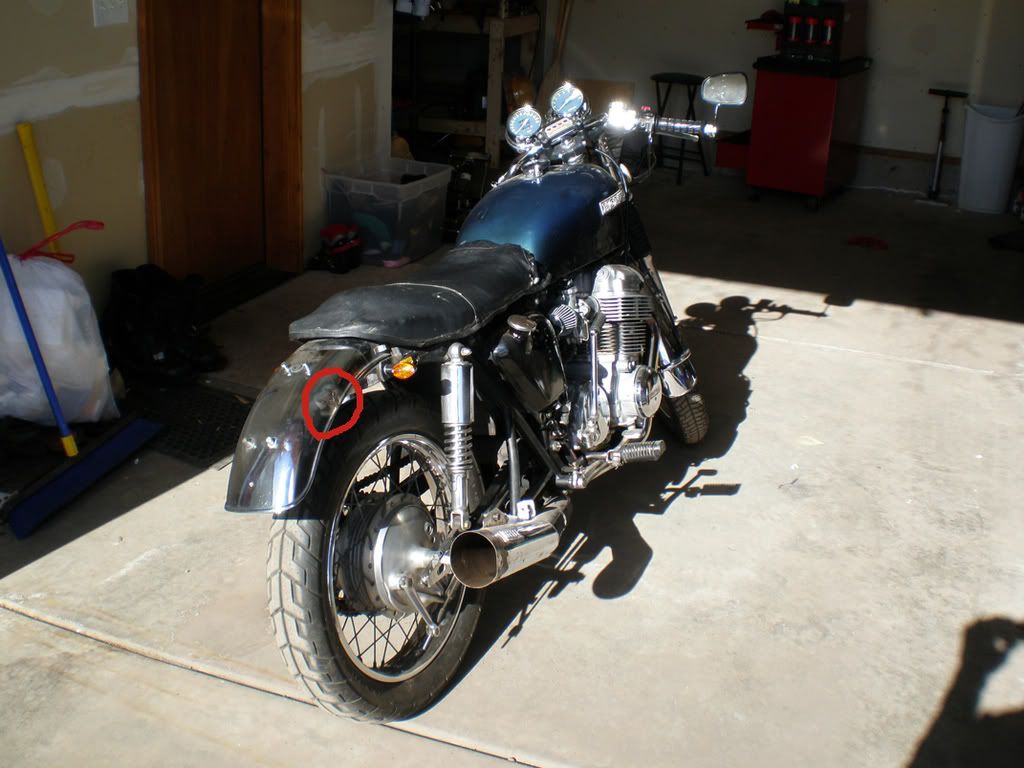 I need to do something about the seat because it is a torn mess. The pan is rusted but a local guy told me he would reupholster it for $50. I might go that way and leave it looking the same. We'll see.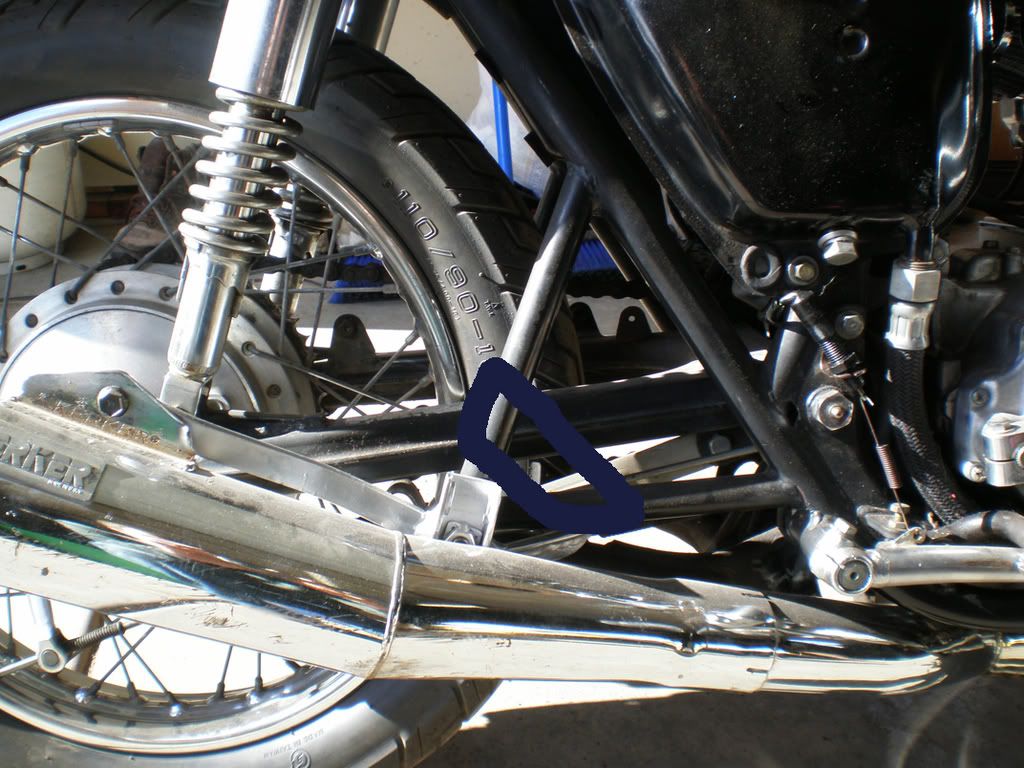 I have some rear sets that I thought would go in the passenger peg holes, but the kerker pipe took that spot. I will try to fab some plates (as shown in my pic) and go from there. I have the clutch linkage so I just need a mounting system.
I also rebuilt the gages because the originals had no glass, faces, lights, and were rusted. The new onces turned out nice. I bought a second pair of ebay and combined the two to work.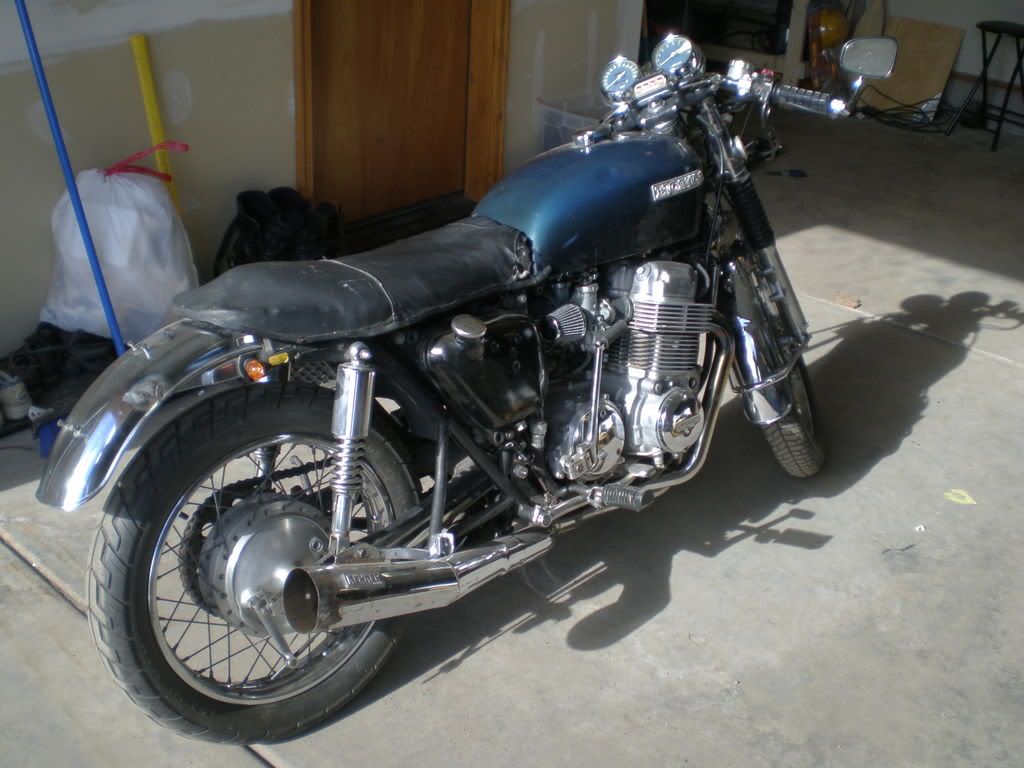 Here is a video of how it sounds. When i turn the throttle hard it dies. I need to tune the carbs but I don't know how. There is a guy here in town who has rebuilt a bunch of these 750's and I think i might have him synch them and give the bike a once over for roadworthyness.
http://s234.photobucket.com/albums/ee180/chrisadelman/?action=view&current=P1200128.flv
I plan to have the side covers (not shown) headlight bucket, and tank painted. Probably a gray.
I have a couple months until I can ride. It is 16 degrees here today and there is about 3 feet of snow in my yard.
Please make any suggestions that you like. I was a little apprehensive to post this here seeing as many recent discussions turn into bike bashing. However, I am building this to ride, not sell.