Dad inspired Honda CL350 on the journey to Bonneville
So my dad bought a honda cl350 new in early 1971 brand new..Not long after he got rid of it due to enlistment in to the navy.
Many many years later I as an adult now hearing stories of his old bike and my already life long ride on two wheels lead me to have the feeling of "I have to have one"..which after months of searching for a suitable project I stumbled upon this 1971 cl350..
after getting the ball rolling I was able to locate a cl tank in the same color of my dads bike and things got to this point.
with some more love and some tinkering and a few new parts I have mad it to this point.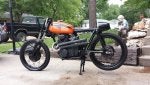 I will be updating and adding specs soon..I have alot more parts coming and plan to get this ol girl to bonneville for speedweek next year to contest the 350cc p,p class.