Discussion Starter
•
#1
•
Well I recently bought this "barn find" bike that I will be transforming into my dream bike.
Step one is to 100% take it all apart.....
Oh.....wait.
So the board has been rather slow these days, figured I would track some of the progress and stories of the new bike here.
Before my wife and I bought our first house about a year ago I sold off most of the vintage bikes.
This spring I started casually looking for something to ride to work and bomb around upstate NY on.
Looked at a million different options, but kept coming back to a Ducati Monster.
Then as luck would have it I stumbled across this 2001 S4 at a semi local dealer.
Seems to be a one owner bike, almost 100% stock, clean an about 9k miles.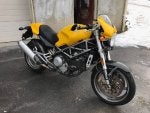 No real plans to "build" anything with it.
But that isnt to say things will be stock either.
So far I have put a few hundred miles on it and come to the conclusion the tires need to be changed as the first order of business.
They have good tread, but are dated 2006 and starting to get hard. I am not a huge fan of how they feel when being pushed. That said I am not actually an overly fast or skilled rider, so it might just be me being a scardy cat.
Ordered some Michelin Power RS tires for it.
Also some EBC pads. Figure the fluid needs to be changed and I might as well swap out the pads.
Bought some stock mirrors as I am not a fan of the bar ends.
I am sure I will track down some little carbon ad ons here and there as well.
There is no record of a belt that would be "in time", but I checked the one on the motor now and it looks/feels perfect.
Have the tools to change it, but probably will not bother this season.
Maybe if the fears of the flaking rockers gets to me first.....
One project I do want to take on is the suspension. Would like to rebuild/upgrade it.
Never had a performance bike tailored to me, and think that would be fun and interesting.
Suggestions?