GN125 first build, stalls after hard riding
Bought a 1997 Suzuki GN125 for my girlfriend to learn on. Decided it was too embarrassing to ride alongside, so I've used it to do a bit of learning myself. It has become my first build. I mostly stuck to simple mods, decreased weight, custom paint (all ceramic actually), and a bit of engine work.
I'm looking forward to dropping the front a bit more, using some clipons and maybe finding a smaller front wheel or larger rear to improve the stance and balance. Hope someone can appreciate what I accomplished so far...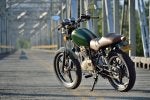 My issue is this, ONLY after hard riding or pushing top speed (not too thrilling mind you), if I close the throttle and pull the clutch, like coming up to a stop light, the engine with stall. It'll fire up again instantly.
However, if I keep the clutch engaged and let the engine rev down more slowly, or give a couple blips of the throttle before stopping, that will keep the stall from happening. During light riding, 45mph stop and go stuff, the engine runs like a top.
Mods include:
Drilled exhaust, four smallish holes (hey, sounds so much better)
Pod filter
Jet kit to accomodate the above
Carb is a Chinese knockoff, quality appears fine, running great in MOST regards
Notes:
Valves are spot on with new lifters
Timing chain is new and tensioner set
Clutch is new and transmission shifts perfect, slight drag in clutch until warmed up well
Starts instantly with choke and idles perfect after short warmup, set to idle at 1000rpm
Sparkplug is tan at full, half and closed/idle throttle (cut engine, pull over, check plug method)
Float level is good but tested allowing more fuel in anyway without change (I thought surely hard riding was drawing the fuel down too low for idle)
Rode with air filter partially blocked and ended up with no HP whatsoever
Also blocked the extra exhaust holes with no change
Rode with higher idle with no change
Overall power and pull seam good, it his some pep
As a small CC engine that runs great otherwise, it just seems a bit fickle with the mods and simply doesn't react well to going from hard riding, open throttle to closed so abruptly.
I can't stress enough how well it starts, idles and runs under light riding conditions.
I could live with this bug, but if anyone has a thought on the problem, I'd love to hear it.
And yes, I know, my first problem is... I started with a GN125.
Thanks for any assistance in advance.