I just read it as a dude trying to poach pipes. And Mark, those are HM341s not the earlier HM300s so I doubt $1K is the order of the day. Don't get me wrong - they are still expensive and hard to find but still....
here is my old 1975 SOHC: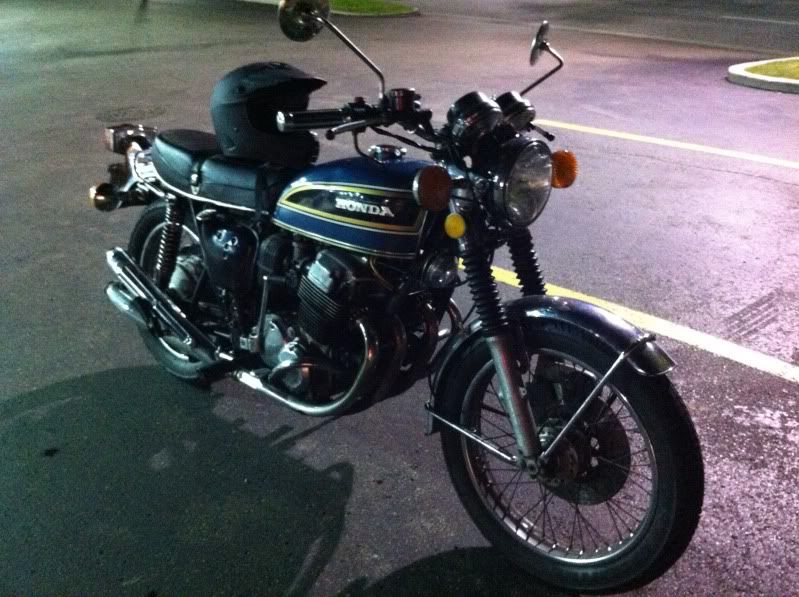 Here is what I recommend:
- Keep the stock pipes.
- Put a K&N stock filter replacement in the airbox. Forget any "pods", this works the best.
- Good Tires, I prefer Metzler Lasertecs but Avon Roadriders are also great.
- Do the dual disc conversion, or better yet a 1975-1977 GL1000 front end swap
- Alloy rims. If you do the GL1000 swap the front wheel will be a 19" alloy. Ideally you want 18" front and rear though.
- Superbike bars, you'll need the leverage
- new steering head bearings. For some reason cb750s chew these up
- Classic Cycle City Guilari replica seat
- fiberglass replacement rear fender. Nice clean originals are hard to come by because everyone seems to bash them and they rust. Also the whole rear fender and stock taillight weigh way too much.
- Calfab swingarm now that they are back in production again.
- Decent shocks. Hagon for budget, Ohlins or works for bling.
- If you feel like you need rearsets raaks and Tarozzi both make setups. I would go with tarozzi as the raask are high and tight racer crouch, tarozzi are better for performance street riding. With a superbike bar however I doubt you will need them.
- metal flake or candy paint. Flat anything is for losers - 70's is all about sparkle.
That ought to sort you out. Figure you'll spend about $2K-$3K all said and done.