Discussion Starter
•
#1
•
i wish we had the option to completely delete old/redundant threads...i'm catching some heat for maybe getting rid of a bit of useful info. wasn't my intention, just felt like it was covered better elsewhere.
that being said, here's the new build thread.
a lot of time has passed since i started this little project. i've learned a lot and hopefully it will translate to the end result.
originally this was a '72 cb350k4 that i spent a lot of time and money on. engine trouble (bits of rubber and metal in the oil) turned into a full disassembly, which turned into a full redo (cracked frame, etc.)
i stockpiled a bunch of goodies for the bike, then reality hit in the form of a break-up with the girl, moving out, etc. i sold a bunch of stuff to get into a new place.
fast forward to a couple months ago...
a friend was getting rid of much of his 350 parts, so i was able to replace pretty much everything i'd sold last fall.
this got the ball rolling on the project again. it's got so much different stuff on it now, it's not really a cb, hence "honda 350".
here's where i'm at right now:
replacement cb frame was found (late '71 build date), cleaned up and modified. boxed seat rails, ground and welded all seams, installed rear loop and underseat battery tray.
aftermarket fender cut and mounted. seat pan made.
early cb front end with NOS 70's aluminum fork brace, cl450 front wheel.
stock cb350 rear wheel. (in fact, the only parts left from the original bike are the swingarm, rear wheel, and footpeg bracket/kickstand)
wheel bearings/seals were checked, cleaned/greased, new brake shoes, new dunlop k70's. new swingarm bushings.
all chrome and aluminum parts have been blasted/scotch-brited to a 'brushed' finish (rims, fender/bars, fork tubes, etc.)
engine is an SL bottom end (second gen, minus e-start), modded cb top...honed cylinders (stock bore), new rings, tsubaki HD cam chain, KA tensioner, intake and exhaust ports cleaned-up/matched, valve job, type-1 cam/followers, HD clutch springs, rick's uprated stator/rect/reg, boretech elec ignition, dyna mini-coils, vm30's/k&n filters/cb360 intakes. still need to make the exhaust (stainless 2-1).
just finished top-end assembly this past weekend. we have a dyno at my roomie's shop, so it'll be tuned and we'll see where it's at asap.
yet to do: figure out seat mount, clean up a few welds, then frame/swingarm/etc. is ready for paint. tank will be de-rusted and painted in the next couple weeks.
still have a few bits to get: ass't hardware, cable adjuster for brake lever, seat foamed and cover made, headlight and mounting, tail light...
some pics:
as it sits from this past weekend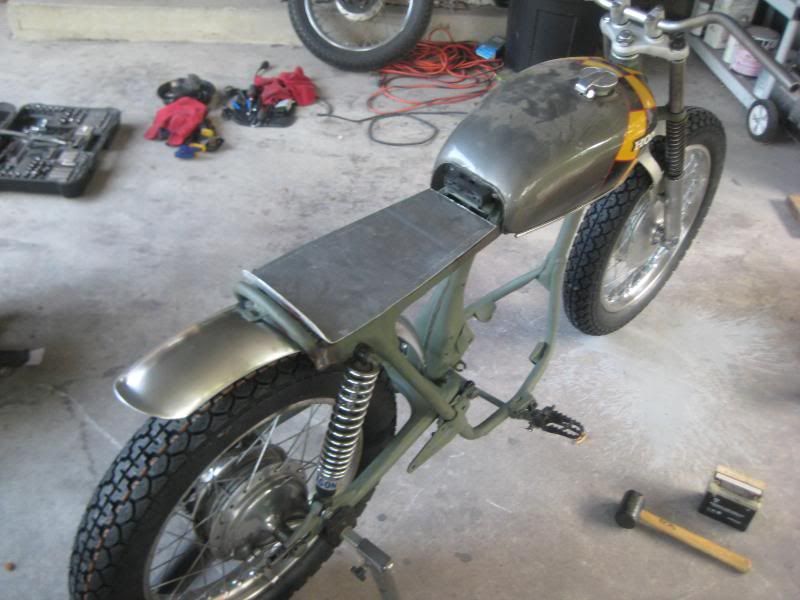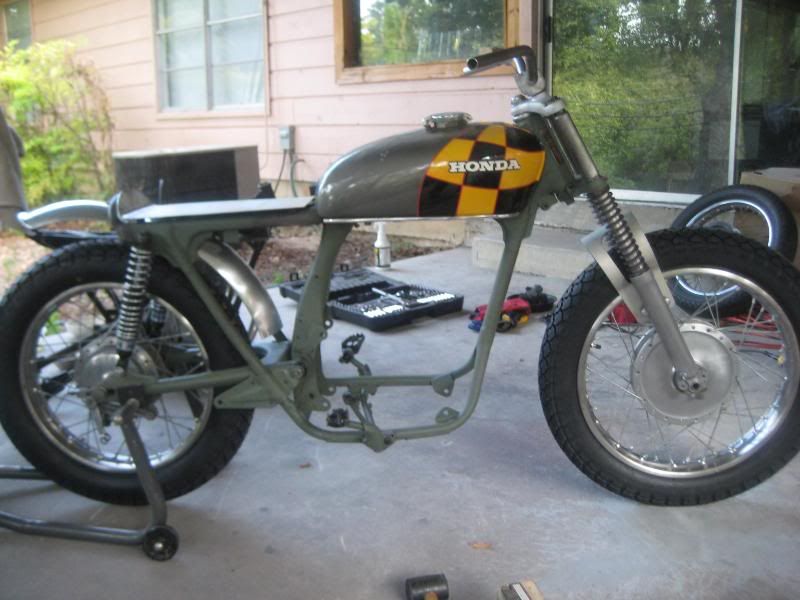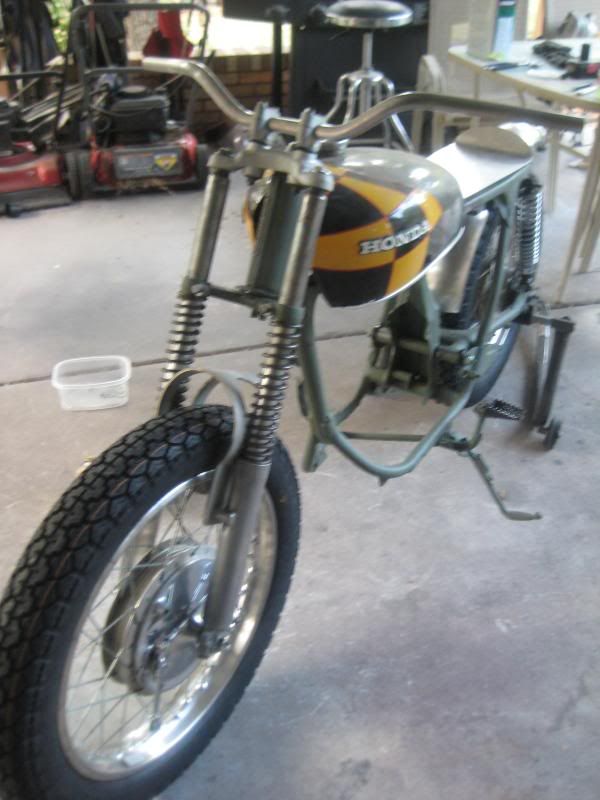 getting the top end on and cam chain together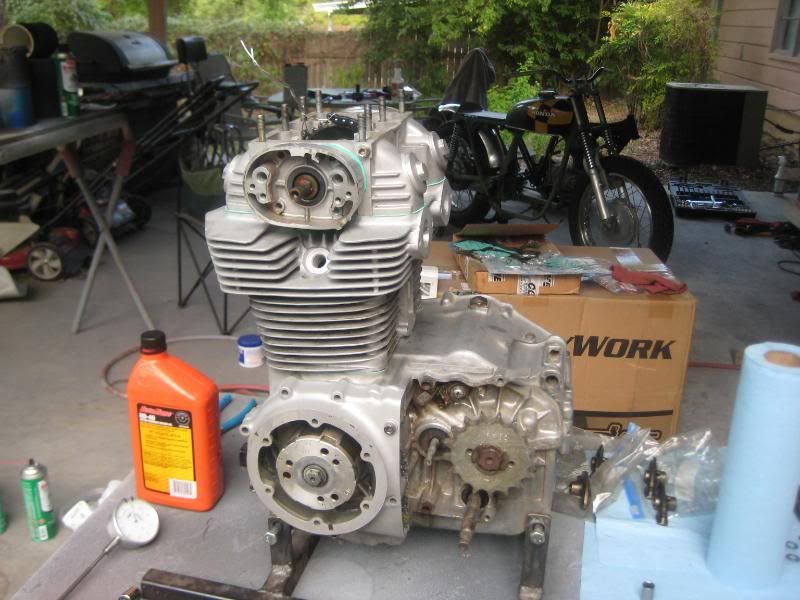 first attempt at a seat pan, made from scrap from work
it fits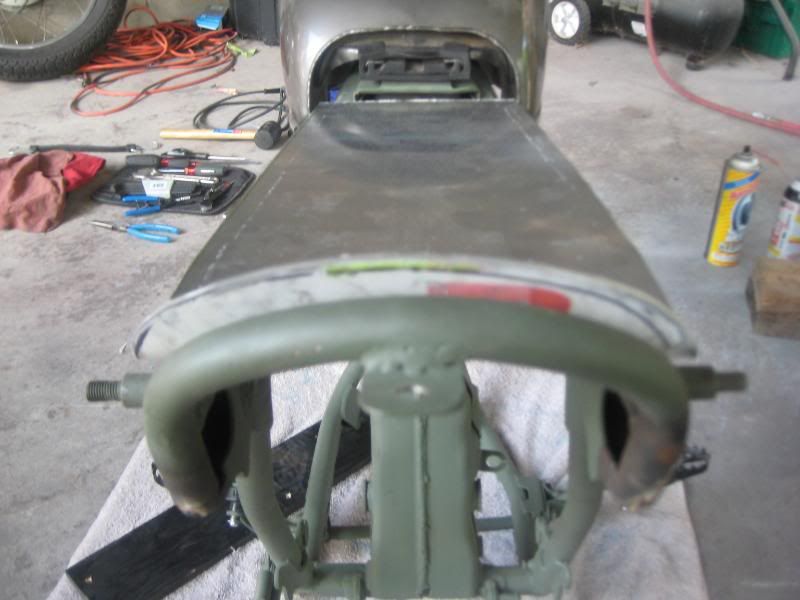 forgive the mess and clutter, we literally have no room in the garage with both roomies' racebikes and projects.
more as i get it done...