Discussion Starter
•
#1
•
I'm definitely too far gone to save now with the newest project.
Markus: You sent me an email the other week with a Puch Magnum in the blog I think...funny, because this thing I'm building now, is going to be the grand poobah of Puch Magnums.
So, my Puch Magnum moped that I ride everyday back and forth from work to home, to the shops and garage started leaking some transmission oil from my sprocket side seal about 2 weeks ago. No biggie, I just kept checking the oil level, topping it off...but last week, I had a epiphany of the grand kind. I was recently given the opportunity to own a Puch z50 engine, which is a really rare 2 speed manual shift transmission engine that was never brought to the US. Only about 15 of these are here in the country I believe...whatever's here is imported from overseas. So this past weekend I started tearing apart my good reliable Puch in the search of building an even faster moped that is still hopefully reliable. The biggest problem with my moped before that when it caught the correct gear, it was great...but sometimes when you go into a corner and open the throttle, the bike would still be in 2nd and not downshift to give a little more pep in 1st. Now...with my new one...it will not be a problem anymore.
Geeto and Larry King have ridden with me here in the city while I was on my Puch with the old setup and they can back me up in saying that it was a lot quicker than what they expected...this new setup with larger cylinder and other little tricks will be making around 13-18hp from seeing others with relatively the same setup. My old engine, cylinder, carb, pipe was making around 8hp.
With saying that...the new cylinder I got had to have the engine cases bored out to accept the skirt and material had to be welded onto the cases to cut and match the transfers. Sucked...but I took my time to smooth out and polish the transfers on the cases, but I think it'll pay off. Next step in modifications is I think I'm going to cut into the intake ports of the piston and cylinder to try and change the port timing a bit, looks a little conservative to me at this point.
It's getting a 8-pedal carbon reed, right now it has one of the 24mm Keihin flatslide copies with the chromed slides, I'm thinking I'll get a cheap $200 Homoet pipe and just modify it a bit, 84cc Gilardoni cylinder and head, Metrakit clutch and springs, threw on a CDI unit I had sitting around, good EBR hydraulic front forks, did some searching and found that a SV650 rear rotor bolts right up to my 5 star mag wheels, so the front is getting a disc brake with a caliper and master cylinder I have sitting around.
I'm just waiting for a few small things to arrive still to get the bike running. I'm hoping everything will be done by this weekend so I don't have to take the train to work anymore.
Some pictures of how it's going.
Larry -
First day from picking it up in a garage in Jersey.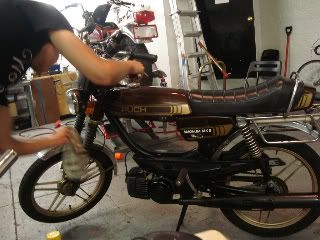 Now.