Discussion Starter
•
#1
•
So while digging through the japanese money pit known as
https://japan.webike.net
I came across this kit from yoshimura:
https://japan.webike.net/products/21290830.html
KEIHIN CR SPECIAL Knife φ 29 Carburetor YOSHIMURA original "MJN MultiPullJet Nozzle" It is Kit that can be incorporated.
"MJN" It adopted high performance and high combustion efficiency.
CR SPECIAL KnifeCarburetor tends to severe setting around Idling because there is no Idol port, but incorporating MultiPullJetNozzle makes it easy to set around Idling, and Accelerator operation also becomes Smooth.

[What is MultiPullJetNozzle]
It is unique mechanism of YOSHIMURA which realized ideal combustion efficiency because fuel particles are fine and less uneven than ordinary Jet needle type, realizing Large width output improvement and Linear Throttle response.
Ok, so it's some sort of needle replacement kit for Keihin CR carbs that's been developed by Yoshimura.
I did some initial googling because my curiosity was piqued and didn't really come up with much that wasn't in japanese.
I did manage to find some photos of the directions however:
Additionally, I found close up pictures of the "needles" and ancillary parts:
And how the yoshi kit compares to the stock needles:
I reached out to Yoshimura America to see if they had any more info or data or english documentation that could give me more information on this kit. Unfortunately they were unable to find anything. They referred me to a Yoshimura Japan POC who, while unable to show before/after dyno charts, did provide me a link to a japanese article about the technology that was written in english:
YOSHIMURA MJN: THE GAME CHANGING CARBURETOR ???????
Here are some interesting snippets from the article"
Conventional carburetor draws fuel through the gap between tapered jet needle and cylindrical needle jet. Jet needle slides up and down through needle jet to adjust the amount of fuel entering from the main jet in the float chamber in response to throttle control. Pilot jet (slow jet) in the float chamber meters fuel for low rpm range including idle speed, through its extremely small hole.
The gap between jet needle and needle jet is located at the bottom of carb throat where the vacuum pressure / air velocity is low. Although the jet needle can adjust the amount of fuel with its tapered section, it cannot deliver fuel to the center of carb throat (the middle of the Venturi) where the vacuum pressure / air velocity is highest. Atomization in this manner is also far from optimal since fuel-air mixture tends to flow close to the bottom of the carb throat when the throttle valve opens during the transition from part throttle to full throttle.

MJN is a unique device made out of a straight hollowed tube which is made in-house, that replaces conventional jet needle. Through the multiple holes on its sides where the most vacuums are created and sprayed, MJN ejects fuel throughout the carb throat and achieves improved atomization and higher charging efficiency by taking advantage of the high vacuum pressure.

P.S. The conventional jet needle type carb does draw the fuel through its gap between needle jet and Jet needle to main bore when even throttle valves are fully closed vs. with MJN nozzle fuel drawing is very minimum. Let's image, you are entering corner with throttle fully closed, with needle jet type carb which draws fuel into combustion chamber to the point where spark plugs could get almost flooded vs. MJN such effect is very minimum due to again using straight hollowed tubes. This effect would make your transient accelerating throttle work much smoother.
One of the merits of the MJN is the ease of conversion. You can transform your conventional carburetor into a MJN conversion, just by replacing the jet needle with the MJN and the needle jet with the MJN guide, without altering its basic construction. The simplicity saves cost and thus provides reasonable price.
"With a MJN, you can use a smaller main jet than normal because of the better atomization ---- which leads to better fuel efficiency and mileage. The transient response will be better also. It will definitely run smoother and will provide better throttle response at upper-throttle range. There's really no negatives to it."
and an image of the "atomization"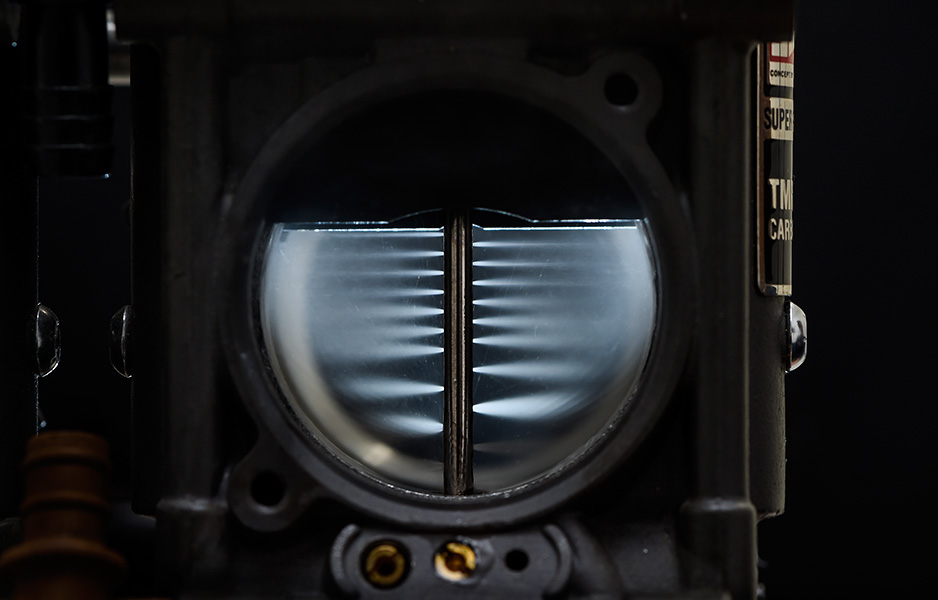 This kit is interesting but I question just how worth it it is, given the ~$250 price tag.
I'd love to see some before/after dyno charts as well as before/after jetting and fuel mileage data to back up the claims that this kit makes. I don't know if I want to be the guinnea pig for that experiment though, unless someone buys it for me (then I'll take care of the dyno portion
).