Discussion Starter
·
#1
·
Well Ive posted a few times on here but figured I now have enough pictures and progress to start a project thread. Actually Im a bit late, but o well.
The bike is a 75 Honda Cb360T. I scored it on January 16, 2008 for $100, but that about all it was worth to start with, it was pretty far gone. But hey, thats what I was after, a cheap project to learn on, as this is my first motorcycle. Heres how it looked when i brought it home. Not real great pics, but you get the point. It wasnt pretty...
The next day I started the break down...
What resulted...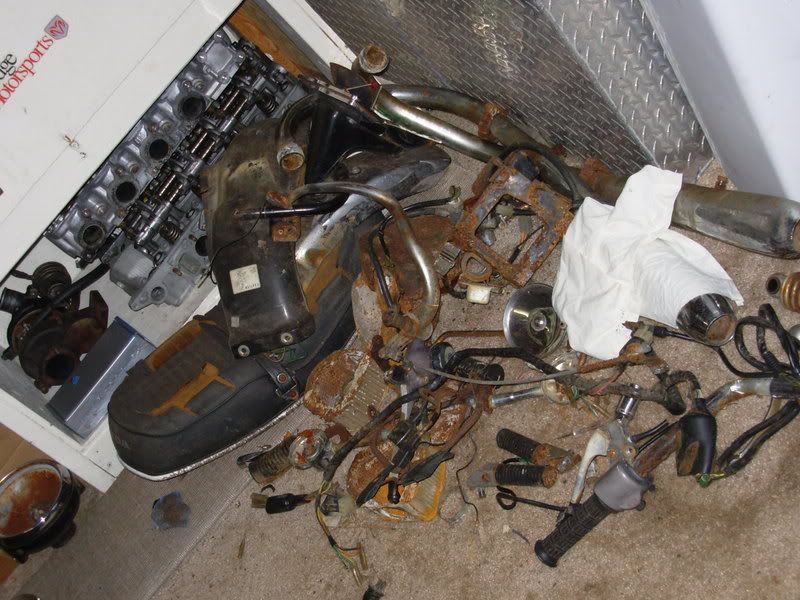 Next I sandblasted the frame as best I could, and for kicks, applied the Rust Converter to the rust that was left. It came clost to getting out of hand. Haha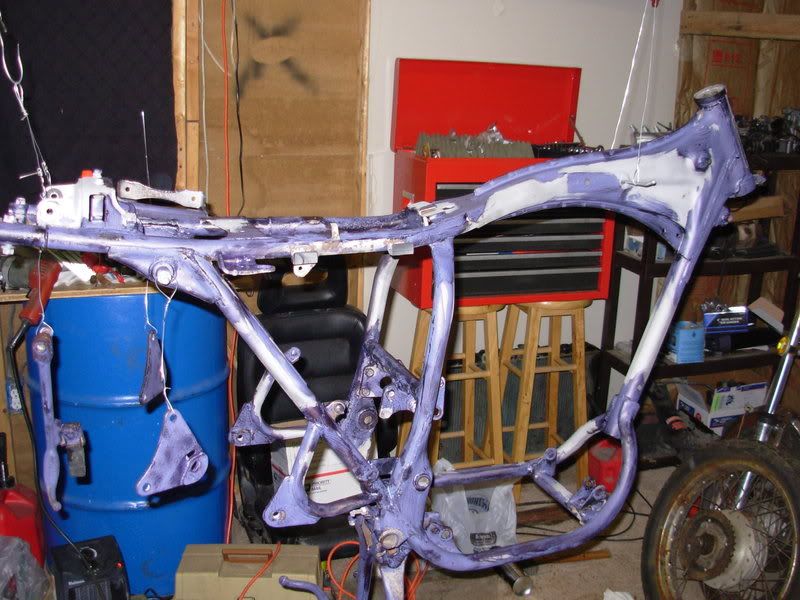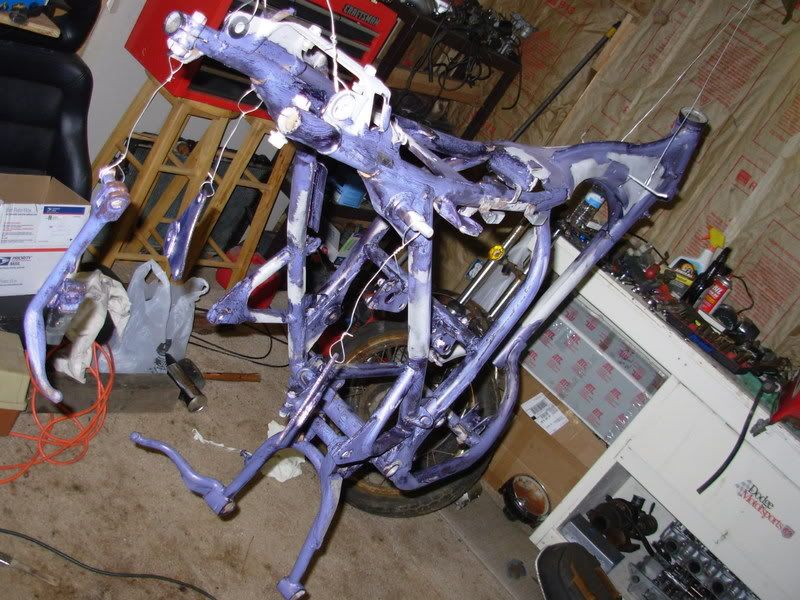 After unsuccesful stabs at freeing the engine up, I decided to tear into it to see what was up. And I found out.
That might just be the problem eh?
So at that point I started looking at my rebuild options. Within a week or 2, I ran across another Georgian who had a CB360T engine for sale for $50. Checked out great, so problem solved.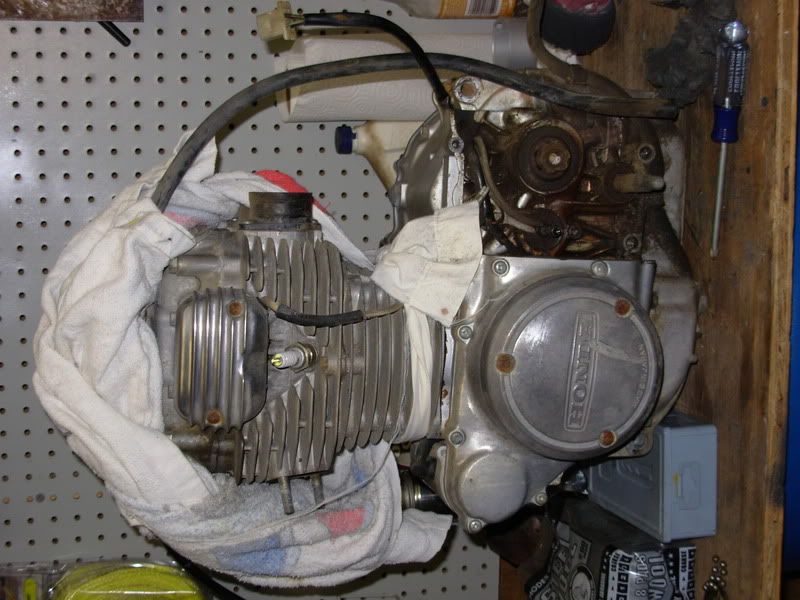 Flashing forward a bit without pictures, the frame and etc was painted low gloss black, and the wheels were sandblasted and painted high gloss black, and I put on the new tires and tubes. What great fun that was. [B)] The wheels then underwent a touchup/repaint. [
] Then in went the new wheel bearings.
Then the fun started, piecing it all back together. In goes the engine (slightly cleaned up), on goes the front end, with new steering bearings, the rear end, with new brake shoes, sprockets, chain, new lowering springs, and etc, cleaning and painting pieces along the way.
I treated the tank with Kleen Strip brand Prep & Etch on the inside, removing the horrible rust, which turned out like new. I then gave it to a friend of mine who does body work, who smoothed the tank of its dings and emblems and got it in primer.
Then went on the flat black topcoat on the tank.
I also started thinking about my plans for the seat. I knew i didnt want that god awful stocker, and didnt see many options out there to purchase. So I decided to make my own, and Im glad i did. This was only my second time working with fiberglass, but it turned out great, just how i wanted, and super strong. Oh yeah and somewhere along the line the back end of my frame fell off.
Seat mold...
Seat mold covered in duct tape...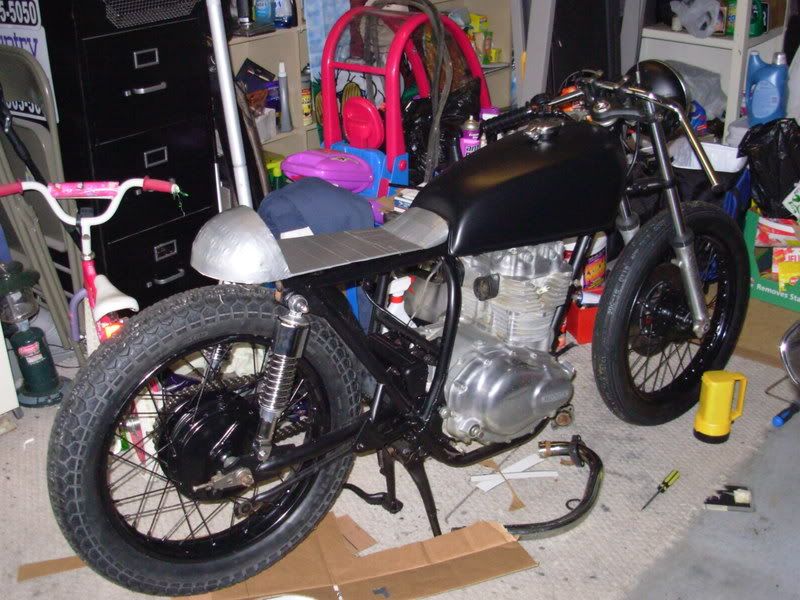 Oops...
'Glassin'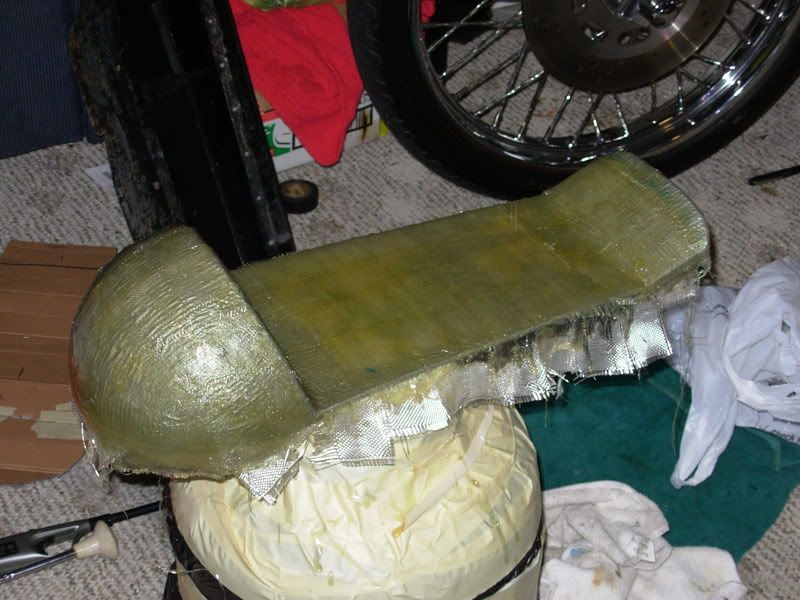 After the top layer dried and i peeled it from the cardboard and foam mold, i layered the underside which really strengthened it alot. In total i think it ended up being somwhere around 6 or 7 layers, using mostly weave and a little matte.
How the bike sits now with the seat sanded and trimmed a bit, and with the newly wrapped headers on for giggles.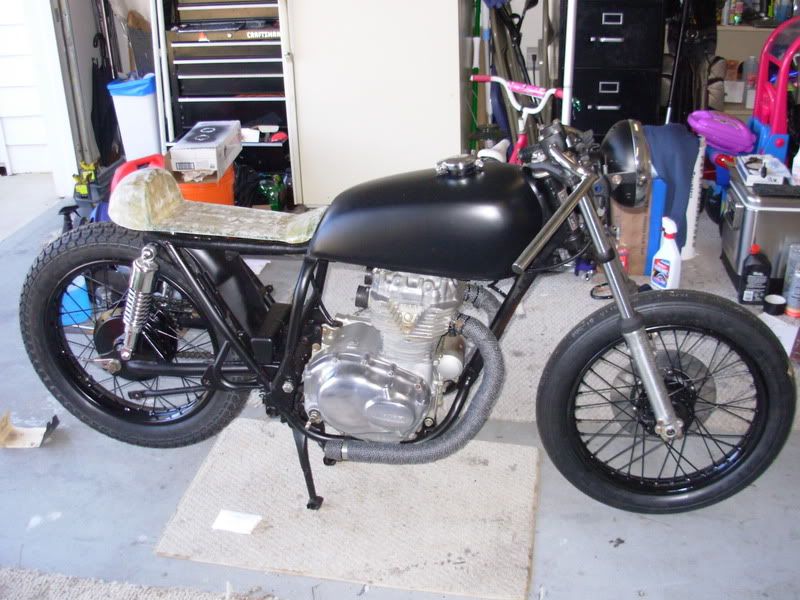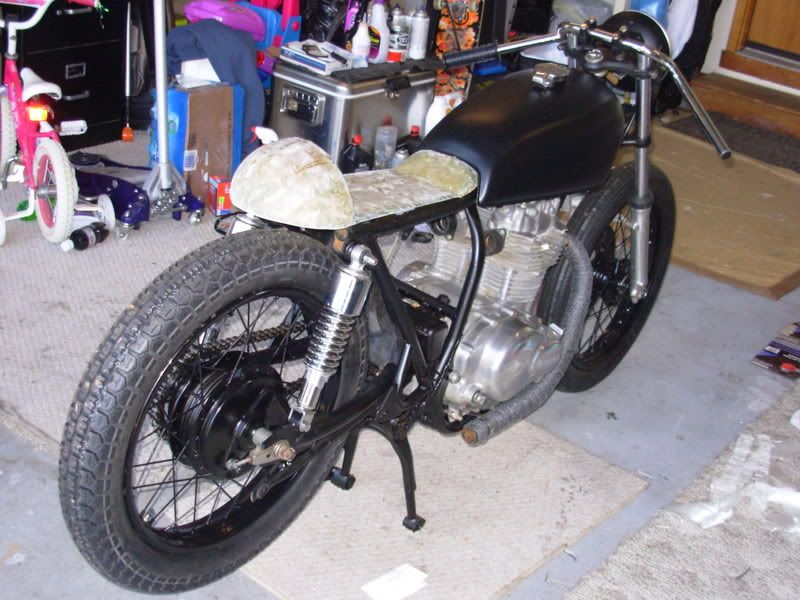 I should have my rebuilt carbs back sometime next week, and hopefully ill be ready to fire her up when the come. Ive got to put the wiring mess back on, drill and run the wires through the cafe bars, run cables, figure out a light/plate setup for the rear, and purchase and install some guages.
Im really happy with how its turning out so far. More to come soon.