Discussion Starter
·
#1
·
G'day Fellas!
First time on the forum here. I stumbled across it while hunting around for XS650 bobbers (the next project?).
I live in Sydney and have recently built up a SR400 cafe racer - using mainly aftermarket parts (Cheating, perhaps?) I've only recently caught the motorbiking bug, in the past two years and I'm eager to learn anything and everything while I can.
Anyway, the build was pretty easy. It has a new seat, clipons, K&N filters, supersound (Jap company) exaust, rearsets, fenderless kit, new front mudguard. I wrapped the exhaust pipe as I kept burning bits of my boots on it.
I was looking at a bunch of different bikes to caff up. CB750's were great, but either ratshit or immaculate and very expensive. Unfortunately I'm using my bike for a commuter, and didn't want the (albeit very few) hassles of an old SR500, so I went with a imported SR400, 2005 model. I need it to start every day to pay my bills!
I've also recently added a chip in the fuel tank from a low speed drop. F*****g great work, Marlon.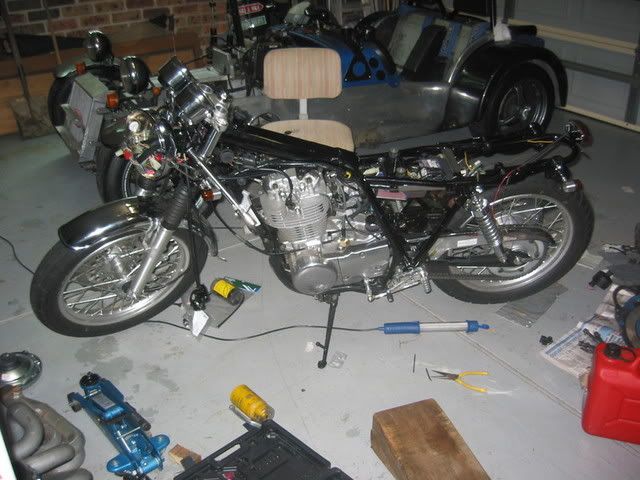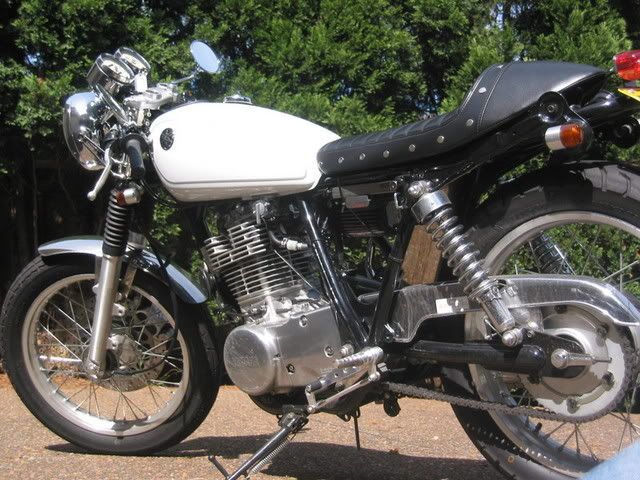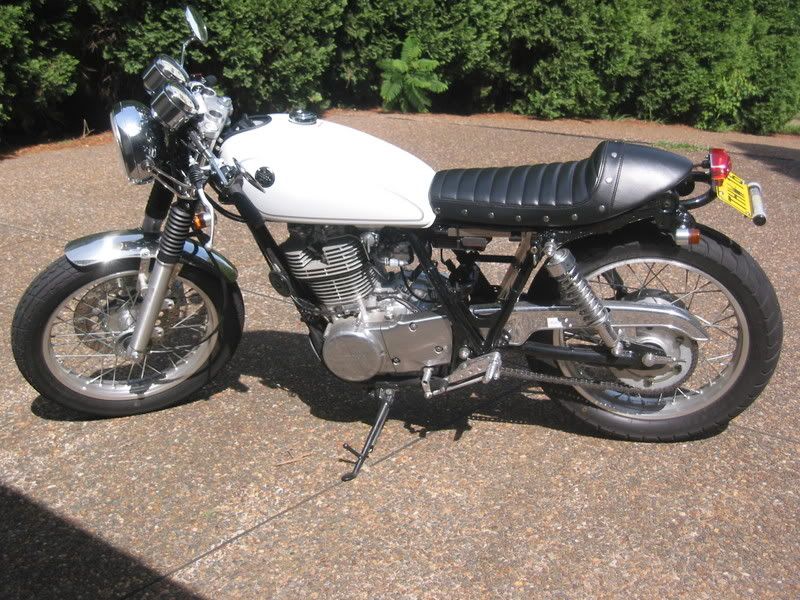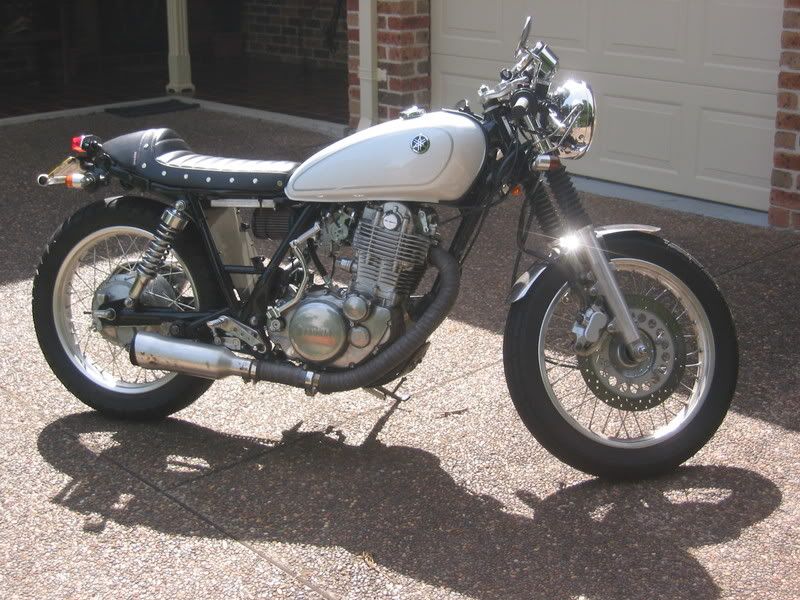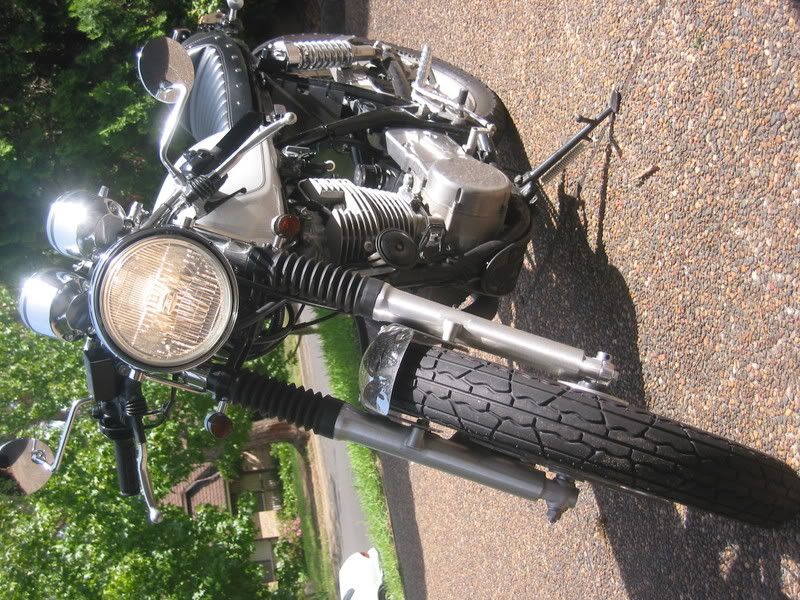 Here's me, photoshopped, trying to kill myself on the old pacific highway. It's running beautifully, but is a bit of a slug and I've got to do something to the shocks - I'm really not happy with it's handling. Probably Ikons at the rear and some stiffer springs up front. Spose I'll have to tackle that before trying to go any quicker.
I've recently got back from a 10 hour ride down to Melbourne. I was in pain. Still, bragging rights at the local pub! ("I did 1000k's in one day on a single cylinder cafe racer with a paperthin seat, you've got a bloody CD player on your bike, that's not bloody motorcycling!")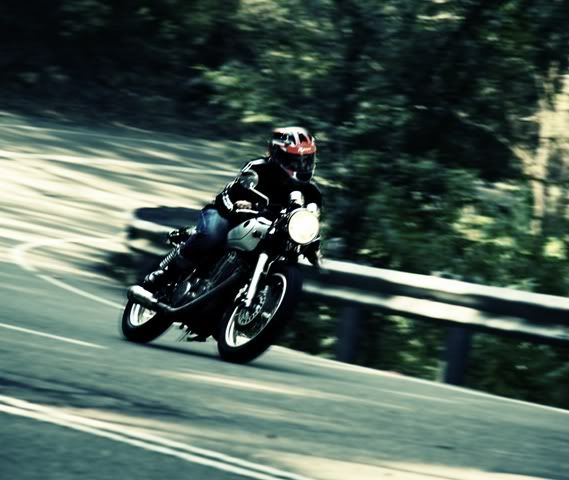 And I'll chuck these in, hope it isn't a kickable offense!
This is my old TW200 - I used this to practice rewiring, rejetting and basic "pulling apart without breaking things" on a cheap bike before tacking anything on the SR400.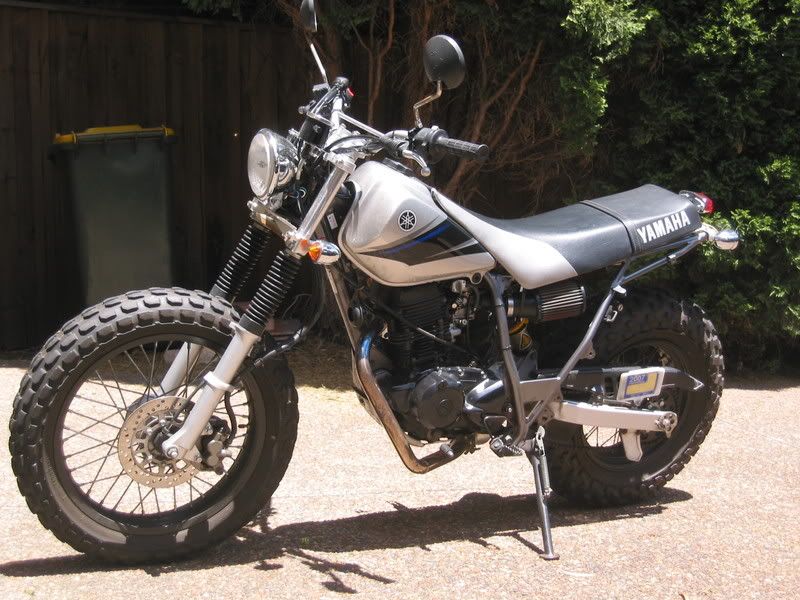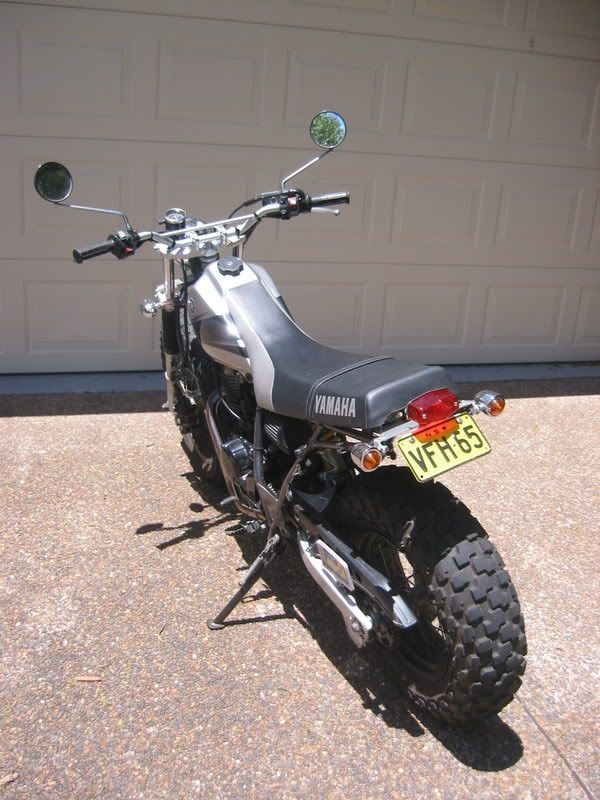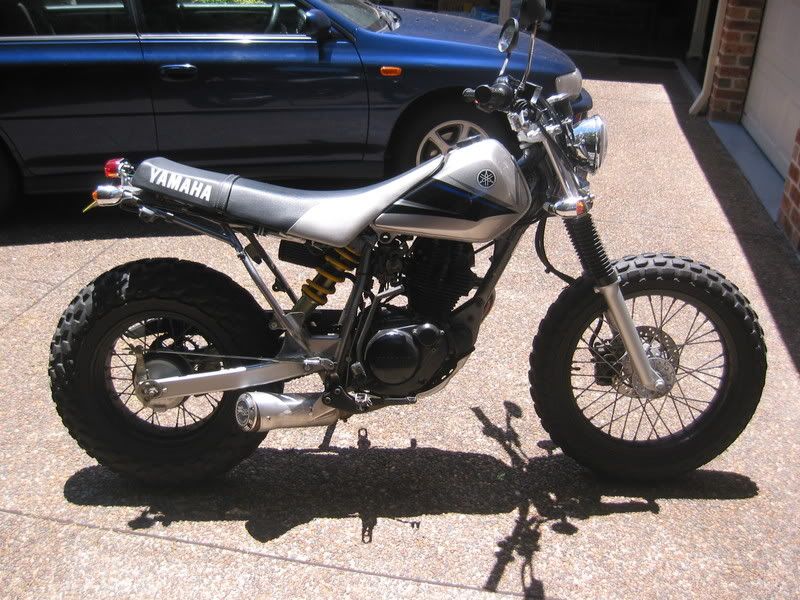 Hope everybody here doesn't think I've murdered anything. I've got a bunch of more questions in waiting for my next project, likely to be a 1950's esque bobber based on a jap engine. Sadly, every bike here over 250cc's requires full registration, which means CTP insurance (starting at $600 for me - I'm male, 21 and apparantly more likely to hit things) So i'll need to save and save.
"There are some things nobody needs in this world, and a bright-red, hunch-back, warp-speed 900cc cafe racer is one of them - but I want one anyway, and on some days I actually believe I need one. That is why they are dangerous." - Hunter S. Thompson