Discussion Starter
·
#1
·
Hi guys,
I've been active here a couple weeks now, so I figured I'd post my projects.
My primary project is my 81 CB125S. I got this 2 years ago but only recently have I had the space or time to start looking at it. Unfortunately I'm pretty short on funds, so I'm just planning. The tank is a 71 cb350 twin tank, and the seat is from a guy in WA who sells on ebay.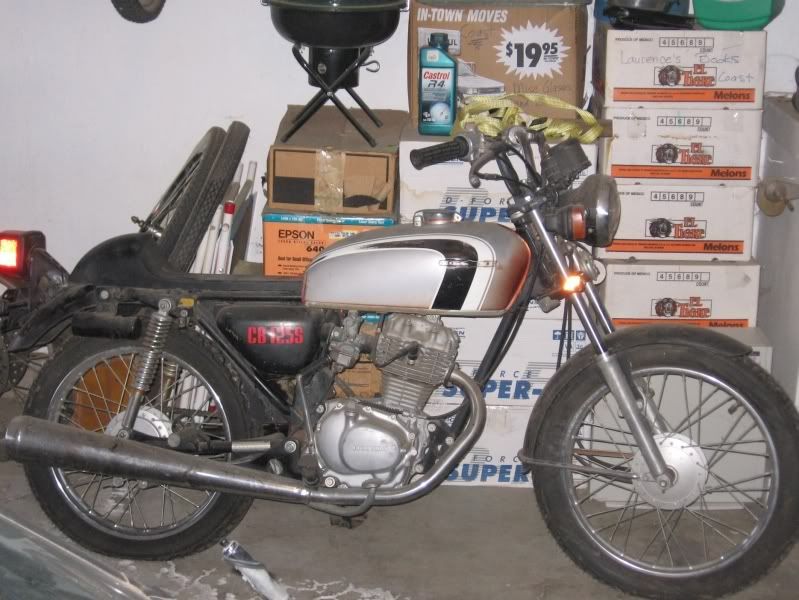 My 71 or 72 CB500F I purchased about 8 years ago or so. The former owner told me it was purchased for racing purposes originally, somewhere in the mid-west, maybe WI? It had been streeted for a short time afterward then garaged. It has been in this state since I acquired it, and eventually plan to restore it to it's race configuration considering it's past.
Lastly, is my former daily, the SV650. I purchased this new in 01 because I wanted a cafe but couldnt finance a real one, and I(formerly) hated sportbikes, and especially disliked cruisers (still do). So, I bought this because it was relatively cheap for a new motorcycle, less ugly than most, and liked it's potential. Since purchasing I rebuilt the front end with cartridge emulators, penske read adj shock, vortex clipons, woodcraft 3 piece rear sets, custom headlight.. blah blah blah. I havent ridden this in over two years after detonating a coulpe of disks in my neck. Thats why I bought the cb125. I thought I'd get it going quicker... hahah, right.
Thanks for viewing!
Laurence
'71 Honda CB500/4
'81 Honda CB125S
'01 Suzuki SV650
---------------------
www.SoCal86.com