Discussion Starter
•
#1
•
Hey guys,
Managed to pick up a pretty good deal on a bike over here.
Just got my first road bike (rode motocross) 1975 suzuki GT250.
Guy I bought it from went through the whole motor and put in new crank seals etc. (showed me pics and receipts) just needs the coils and plugs hooked up and probably some other wiring shit oh and tires/tubes.
Im not into the whole tearing the shit out of a perfectly good bike just to make it look cool thing. Id rather, A. Get it running/safe. and B. Get a feel for the bike on the road and what it needs. Then in the winter since I wont be able to ride ill put some time into changing a few things up, probably some drag bars, exhaust, brakes/lines, weight reduction and paint and polishing, nothing drastic.
Just a couple questions. Any good parts sources for these bikes? Whats the deal with doing a 2 into 1 exhaust? For a two stroke I imagine this may cause some problems with backpressure in the cylinders etc. but I really hate how the dual looks and saw it on a GT550 so I figured I'd ask.
As far as suspension, would fork emulators do the trick? Or what do you think? and for the rear.
Heres a pic of her, I had to push it up 2 flights of stairs with two flat tires with the help of my buddies to get it into the apartment cause my leasing office people at my apartment are a bunch of assholes.
Anyways, a lot of writing I know, but any advice or input on the bike for a new guy would be greatly appreciated. Thanks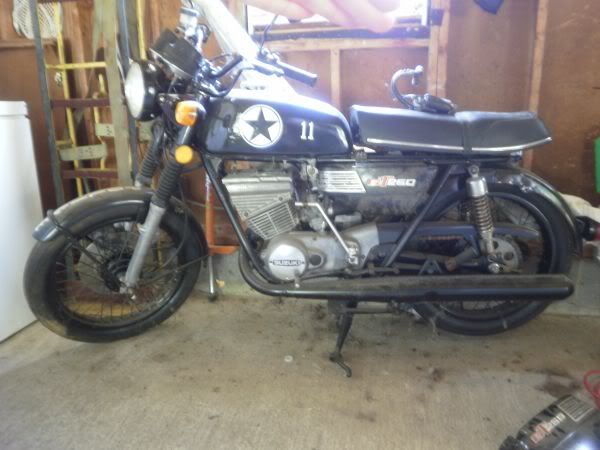 and by the way, the main thing that influenced me to get this bike (besides previously racing 2 strokes in mx and having a blast) was a quote that i saw while researching from geeto that said
"Do you know what a two stroke engine is? and do you worship satan?. If the answer to both those questions is yes, then you'll be fine."
It was at that point that I knew I would probably enjoy one of these bikes a lot more than what seems to be becoming the oversaturated market of CB's.