Discussion Starter
·
#1
·
Hi all. I'm a new member to the forum, but have been finding tons of great info so far.
I started with a running '72 cl175 that I've been pushing around my garage for the last 10 years. Finally last year I couldn't look at the brush strokes on the gas tank and 40 year old tires - so I decided to sell it. I cleaned it up a bit, put a rustoleum paint job on the tank and side panels, new battery, cheapish Shinko tires, new fork seals and 15W oil and probably some other things - And it ran pretty good.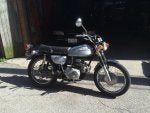 Now how could I sell this to some hipster?
What I've since done to it:
Removed lights, pegs etc. and wiring harness
Clip ons from an FZR400 - these needed some help to make them work.
Rearsets from a FZR600
310mm redwing shocks
New RK chain and JT sprockets
Bridgestone BT39ss tires - I had to get an earlier cl175 1.6" rear rim for this.
New brake/ clutch levers
New clutch fibers
I'm planning on keeping the motor stock for now, points and all, just focus on getting it and myself around the track in one piece.
I'm still trying to figure a few things out though.
Brakes - it still has the original pads. Is there a better alternative?
Valve springs - Stock ones ok? What rpm before valve float? After point float?
Gearing - I have -17/35 sprockets - does this sound right?
Any other members in the Chicago area?