Discussion Starter
•
#1
•
I have been dumping some money into my RD350 again, and I thought I'd ramble about it just a little to help keep me motivated to get it back on the road. It turns out that I had the automatic oiler "turned down" too low, so I have been slowly starving the motor for oil for quite some time.
I ordered up a fresh set of Banshee pistons, wrist pins and pin bearings, and I am waiting for those pistons to arrive. I really liked these M&H forged pistons I got last time. They held up very well to extraordinary abuse, and I experienced some real power gains. If the shoe fits, wear it. So I got another set:
EDIT: I purchased a third set of these pistons in Jan 2010. these are a new batch from the manufacturer, and the quality had seriously decreased. There are conspicuous slag deformation around the ports, and the factory machining is over all very sloppy. I no longer recommend these pistons.
Several months ago I bored out my intake to support big banshee reed blocks. I believe the RD350 suffers from a foundational performance bottle neck through the restrictive stock reeds, and the big ones instantly made a HUGE improvement. I was getting happy little roll-on third gear wheelies before I started soft seizing motor up b/c the engine was oil starved. Looks like an absence of oil also serves as a foundational performance bottle neck.... [8D]
The other day, on a whim, I dropped a low-ball eBay bid on some of the famous Delta V Force reed blocks -- these are well known performance parts for Banshees. It turns out no one else bid, and I got them at a fair price. They arrived yesterday, new in the box, and I am looking forward to see how much more metal I will have to remove to make these bad boys fit.
Another substantial problem with the RD350s is their infamously poor ignition systems. It is a standard breaker points system, but the coils blow, the charging system can't handle much more than stock, and they foul plugs like they're going out of style. To counter this I have been experimenting with running car coils on my RD. You know, the good old fashioned canister kind. They actually worked well, but the didn't last. I have gone two sets. The first were old, free hand-me-downs, so their original condition was unknown. The second pair were HUGE 60,000v cheap Chinese crappy ones, and they failed pretty quickly. I guess you get what you pay for.
This time I sprung for a pair of new Accel chrome ones (ACCEL #8140C).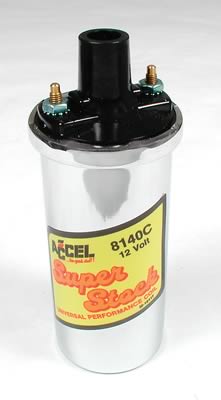 I will be running a pair of dual 1.4ohm external ballast resistors with each coil which will let me experiment from 1.5ohms to almost 3ohms for each coil. Coupled with an intentionally resisted secondary ignition, I am pretty sure I've finally figured out what it takes to make something like this work.
Running big coils creates two immediate problems. The first problem is that car coils basically rape the points. The second is that my bike's crappy charging system is insufficient to continuously power them along with the headlights and everything else. (I have already upgraded the lighting from wimpy stock 35w bulbs to the amazing brightness of a 55w H4 'Sylvania SilverStar Ultra' bulb (I think these are the best). This is already straining the fragile charging system.)
To address the second problem I simply run the bike with no lights 90% of the time, saving the juice for night time. I did buy a 35w 'true HID' headlight setup, hoping to help address my unsustainable wattage addiction, but I think that once again I got what I paid for, and the crappy Chinese kit I purchased off eBay actually sucks a whole lot more power than its advertised 35w. Plus, when the power gets low with these you can't limp home in the dark -- there is no dimming action, and they simply turn themselves off. YUCK! I might spring for another conversion kit. I think I'd have to look for one that is of substantially better quality, maybe one of the German made kits. It would be rad if I could find one that does what it is supposed to do.
*To address the first problem*, I have been researching transistorized ignition boosters.
I'm pretty excited about this!
Called by many different names, these are clever little devices that effectively work like a digital relay that fits between your points and your coil, accomplishing several very handy things all at once. First, and most importantly they operate like a relay for my coils: They take the heavy voltage dump that the coils normally would drop through the points, and it redirects it directly to ground. The points instead get a greatly reduced micro voltage for triggering the coils. What this means is that the points do not have enough voltage to arc, so there is almost no wear, and a correctly adjusted, fresh set of points can effectively last almost forever with minimal adjustment. At the same time, coils work best with a nice crisp triggering signal, which points do not deliver, but the transistorized ignition delivers perfectly. And finally the coils also will run better because they will have a better ground than what the points can deliver. I intend to open my spark plug gap up to a whopping 0.060" to add a little fire to the fuel. So all around, if you are going to run breaker points, a transistorized ignition booster is a fantastic upgrade, offering some real BANG for your buck. I think this represents one of the final missing pieces to successfully run car coils on my RD350.
FYI, transistorized ignition thingies apparently don't actually exist anymore. Rumor has it that Accel used to sell one, but I was unable to verify this. Fortunately there are $20 kits out there so you can build your own.
HERE
is one of the cheapest places where you can buy a 'K2543 Electronic Ignition Module Kit.' And
HERE
is a top-secret .pdf of the instructions to build the same kit if you think you could save money by sourcing all the parts yourself. You need to use one per coil.
Having said all that, Mark "HondaMan" from the SOHC forum makes and sells an updated 'plug and play' ignition booster which is similar to the kit, but if you use his you only need one unit and it should be significantly better. There is a 16 page forum discussion around its development
HERE
. I just purchased one from him for a little less than $100, and that includes shipping, special components for my particular application, plus a fancy alloy box to make it look pretty and aid with cooling.
(HondaMan's image)
Since it is being custom made (and he had to mail order the red alloy box), it probably will be a few weeks before it arrives. I am pretty excited, and I will post some more info/pics when it shows up.
All in all, I am hoping that all this fun stuff, combined with a significant amount of other work I have dumped into this little bike, will help make my happy little RD350 one of the faster ones in town.
On a side note, Snorklefork and I are pretty good friends, he also has an RD, and we have some friendly ongoing competition to see whose RD is faster. Um, Snork, watch out! You're about to get spanked.
So now I just need to patiently wait for the last few pieces to arrive in the mail. Then I need to make a new seat, and replace the rear rim with a nice alloy one, and paint and install those chambers, and, and, and.....
peace and grease,
-fang