Discussion Starter
·
#1
·
So a couple weekends ago, I was riding up to Williambsburg to deliver a helmet. A new guy at work has his Boneville down, and in his hurry to get into town on the move, forgot his lid. I have a spare lying around, and was going to let him borrow it until his wife shipped him his.
I take a route I usually don't take. Turning right on red. The Canyonero in front of me rolls through the light. I stop, look left. Nothing coming. Start to go... WHAM!
The bike lurches forward, as well as left, right, and a few other directions I'm not quite sure about. I keep it up, and pull over into the gutter. I look behind me and the Dodge Durango pulls in behind me.
Swearing, ripping off my gloves, throwing them onto the ground, I'm in full angry-biker mode. [}
] With all the work I've put into the bike, the plastic is folded up like a hooker that just got gut punched by a fat guy with sores on his face. The lady gets out, and has that look on her face like "Oh s--t... what's he gonna do now."
After coming to my whits, we talk it out. She expected me to roll through the light. I believe that red means stop, and didn't. My hand was off the brake, and I was starting to move, which I think saved me from going down.
Anyway, after over $500 in parts, she's making it all right. Her husband, oddly enough, used to own a motorcycle shop, and asked if he could order the parts through his old place to save a buck. I said I had no problem with it. Hey, nobody was hurt, and IMO, that's the most important outcome of any accident.
So my baby looked like this shortly after the accident... (got a ride home in the back of a trailer from the guy who I was dropping off the helmet to.)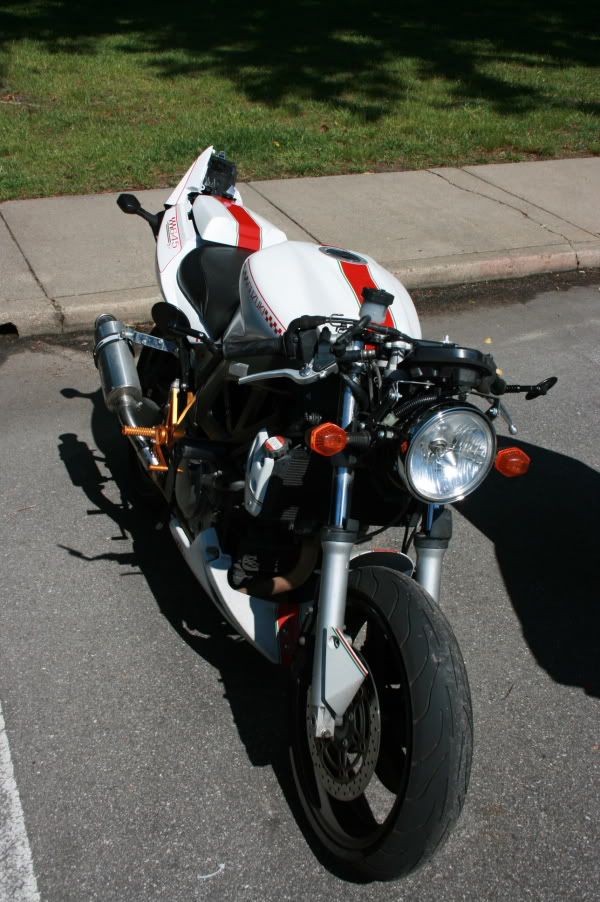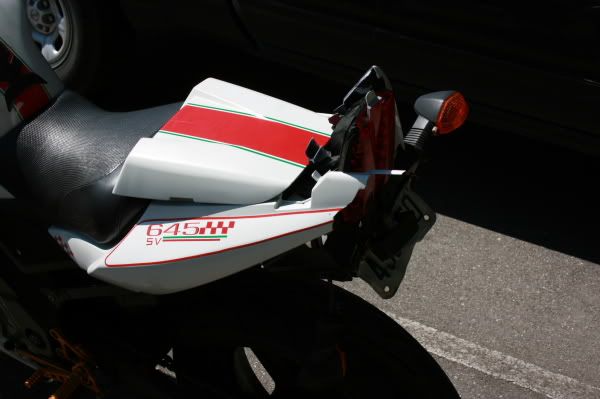 And now, after using some duct-tape, ingenuity, and some spit, it's almost like new! I mean... you can hardly notice... right?... RIGHT? [B)]