Discussion Starter
·
#1
·
Went out with a friend yesterday on a 150 mile ride through the country. There are some good roads in southeastern Ohio and it gave me a chance to test my riding a bit. I sold my W650 2 years ago and in the meantime I have just been tooling around town on my 350 (when its running and I'm not fucking with it), so, safe to say I'm a little rusty out in the country.
I got an '01 SV650s a couple of weeks ago and when the chance came up to go for a Sunday ride, I jumped at it. I'm here to tell you, the SV is a great all around bike. The only word that comes to mind to describe it is "balanced."
Funny, though, that I say that as about an hour into the ride I laid it down. It was my own damn fault. Easy left hand curve on a gentle rise and I fucked up the entry, target fixated on the edge of the road, and into the weeds and down I went. Stupid. No real damage. Just bent up the shift linkage. Bent it back, fired her up, and off we went for another 3 hours of back country riding. I'm not too proud to admit it, I need practice. I took it fairly easy the rest of the ride, concentrating on smooth riding and using my eyes, and learned a lot.
One thing's for sure, if you want to learn how to ride, get out of the city and find some hills and curves.
Oh, here's the bike;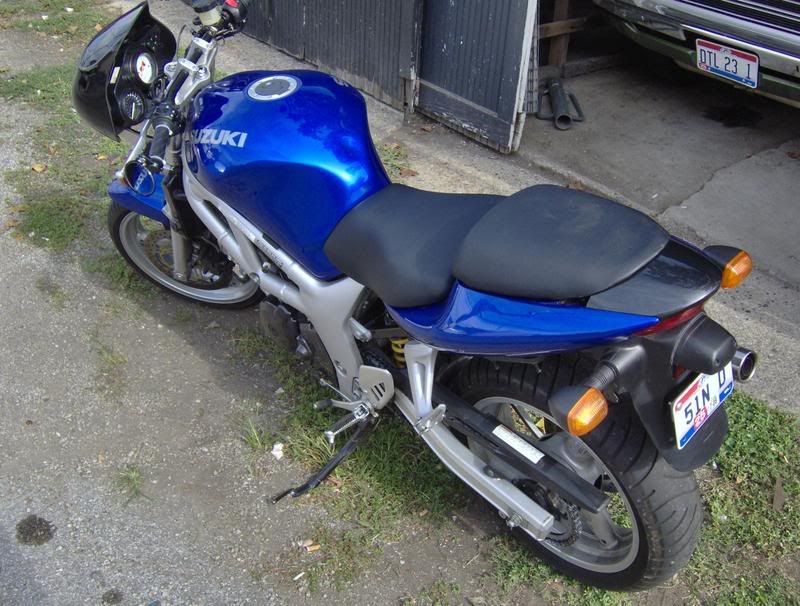 Here's the damage:
Honda go sideways!