Discussion Starter
•
#1
•
Hey y'all!
Either of one of these bikes could be my first project and I have no experience with wrenching at all but i am eager to learn.
I'm just kinda worried that the build would be a bit difficult because of the seat's position. as you can see it is slanted.
I would have no problem doing very minimal cutting/welding but I still do have to learn.
So my question is: Does anyone have any experience with these bikes? Is the frame really angled that way or is it just the shape of the seat's foam?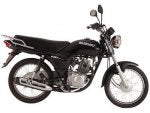 Thanks a lot!
Oh and btw, my local Suzuki sells these. I might get one from them 'cause I can't find any used ones on my local listings.