Hi all,
I'm recent member of this forum from Italy.
I started recently my first project, I bought a Suzuki Gr 650 and in the free time i modify that at my home. I'm a student and in the weekend I work but I try to do everything at home and buy less possible.
I really love motor bike and all around engines, in this forum I watch very beautiful projects and a lot of good ideas!
I post photo of my work in progress, I hope you like it.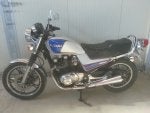 Hope in valuable advice,
best regards!!