Discussion Starter
•
#1
•
As part of the initiative for Jag and I to put good things back into this forum, I figured I would start this project thread. There are a lot of interesting projects in the archive and current that show the talents of some great experienced motorcycle people, but there really isn't one done by someone where a newbie could look at it and really get a sense of how to start where to look so that the sawsall is not the first tool they grab. My goal is to rehab this bike into running condition for a flip sale in March/April so that I may fund a more interesting and fun project I will be working on with Jag at a later date. Some of the many topics I want to discuss here are work-space, tools, project evaluation, project planning, all the basics that in the real life we had to learn the hard way. Hopefully, when a newbie comes to start and ask questions, we can send him this link and it gets him or her on the right track.
So Lets Begin!!!!!
Prologue:
Let me introduce you to our subject bike, a 1975 CB750F supersport: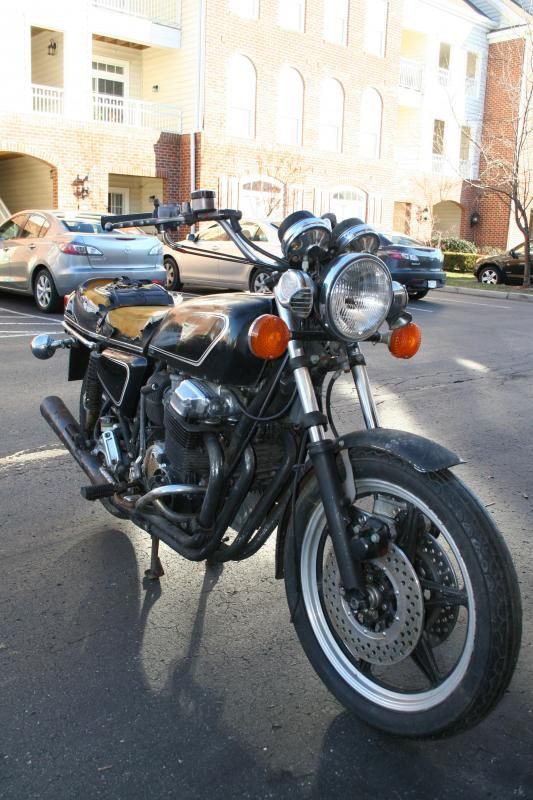 Back in 2011 Jag and I bought a bulk collection of bikes from a guy in Flushing who needed to clean out his garage....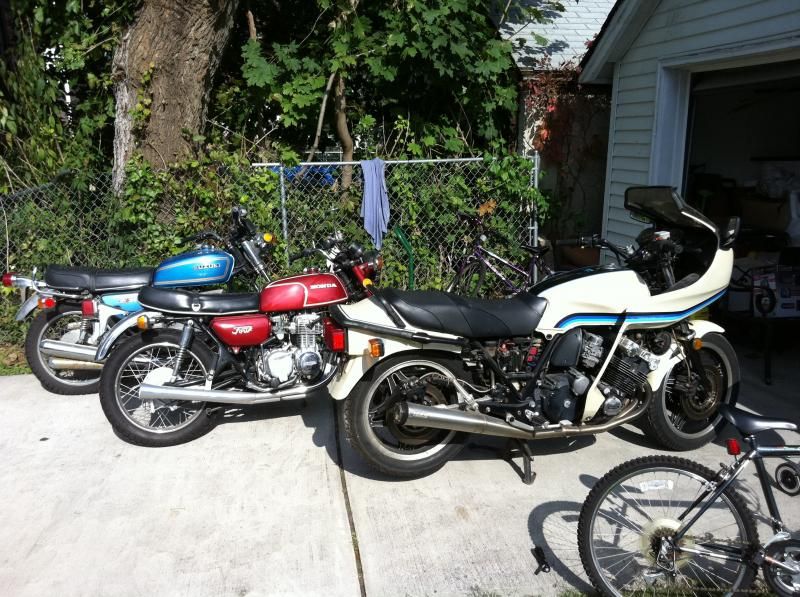 Jag and I purchased the 1975 CB750F, the 1972 CB350F, and the CBX. Jag got the CBX while I took the CB750F and the 350F. We left the Suzuki GT there because the guy wanted another $1000 on top of what we were paying for it and it just wasn't worth it to either of us.
I sold the 350 after a day getting it running and instantly turned this into a profitable venture. I won't disclose how much was paid until after the cb750F is sold just so a) this thread won't taint any potential sales, and b) I plan to document the costs associated with just getting a bike running and for sale for a flip.
So Let's talk about the bike. At the time I purchased it I needed another CB750 like I needed an asshole where my elbow is, but there were a couple of things that were instantly attractive to me. For starters, the bike carried a 1990 NYS bike inspection tag, indicating it was last legal for rode use back when I was still in high School. Back then bikes like these were just used 15 year old motorcycles that could be had for a couple hundred bucks at most and there wasn't any special collect-ability for 1969 K0's, or odd stock colors, or JDM imports. The most valuable had speed parts on them because in the race replica sport bike explosion that was still happening in the early 90's, go-fast was all that mattered. All I could afford back then were old 70's bikes and I got made fun of plenty for them. They were called "grandpa motorcycles" and "pedophile bikes" because they only other people that still rode them were older lecherous degenerates for whom the 70's had not ended and would hit on high school girls that hung out on plandome road despite being well into their late 30's/early 40's. Still there were a few of us who couldn't afford the latest greatest used death machine and we had to ride whatever 60's and 70's crap we could find in our friend's father's garages. This included old triumphs and other brit bikes by the way, not just the jap stuff but the jap stuff was truely worthless where as a triumph or a norton could still pull a grand or two. So what does that have to do with this bike? To me it was a time capsule, a look at what a used bike from the early 90's looked like in an era when I thought almost all those original ones would be gone. The only difference is back then this one would have still been running.
The other thing that was attractive to me is that this is what I remember a "cafe racer" being in that era. I mean we call it cafe racer but you could easily substitute hot rod, street racer, etc...in there. To the eyes of those looking 20 years later it probably doesn't look it, but trust me, this was a mildly hot bike back in the 1970's/80's and even in the 90's it would have been somewhat desirable. The biggest thing for me were the Shelby-Dowd wheels, which up until I purchased this bike I had only seen pictures of:
For those that don't know, sometime in the mid 1970's Carroll Shelby teamed up with Al Dowd, a longtime mechanic and racer with Shelby American to offer motorcycle wheels. Supposedly there is a really good chapter in Shelby's Authorized biography but I haven't read it. They only offered these wheels in a few sizes (all of them narrow even by 70's lester/Morris standards) and they carried a pattern similar to Henry Abe and wheels only in a 6 spoke instead of 5 or 7. Because even I hadn't see a set in real life I asked the seller what they were and he told me they were GS750 wheels - which goes to show you, even sellers do not always know what they have. I assumed them to be Henry Abe at first, of which I had seen plenty, but it was only after I got them home and inspected them that I realized what they were. Most cafe kids now would probably throw them in the trash for spokes, but I have to say having a set of wheels that marks these famous racing's legends only foray into motorcycle parts makes me kind of happy.
But other interesting parts are the exhaust which does not appear to be the standard cheap mac affair, but is beat to hell. If I had to guess I would say it is a motad or RC street system. Oddly enough I have a matching chrome pipe in my collection in way better condition that I also don't know the maker of, what are the odds? Also the bike has a Martek 440 ignition which was state of the art electronic iggy conversion when bell bottoms and 'ludes were still a thing, but were surpassed with the Dyna-S ignitons of the 1980's.
Finally the Lacquer paint job just drives me crazy. It is Candy black lacquer over small silver flake, over the original candy blue (without primer!!!! bold move even for the 70's). It is def showing it's age with numerous chips revealing the original blue below, as well as many cracks, spiderwebs, and other age related damage. At one point someone really cared about this bike but then it went through 20 years of neglect it developed a character that I loathe to destroy, even though I have an original candy blue body set for this bike with excellent amount of character. The seat is trashed but it was one of those 2 up "cafe racer" seats that has a bucket for extra rider support while keeping the passenger seat, and are often mistaken for King and queen chopper seats, Ironically I have one of those as well with only a small rip in it that I have contemplated using. The bars are the US stock bars but are tilted back to give the rider extra leverage, this was also a common practice since clubmans to fit the cb750 went the way of the dodo after the 1970's, and anyway they weren't comfortable to ride with and few guys I remember using them for bikes they rode everyday in the 90's. This practice has almost all disappeared since, it looks kinda dumb, but it worked and you could get awesome leverage when you leaned forward through the bar's rise. It also has the NYC FIAMM horn mod - if you rode in NYC back in the day this was as close as you could get to air horns, and was really popular before the NYPD started handing out tickets to people who use their horn.
Condition wise, this bike sat closest to the door, and as a result it has some ugly corrosion to it as well.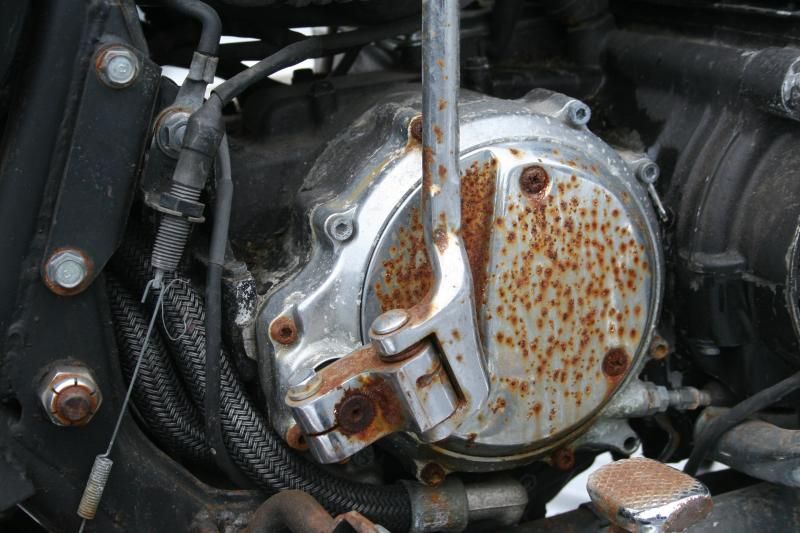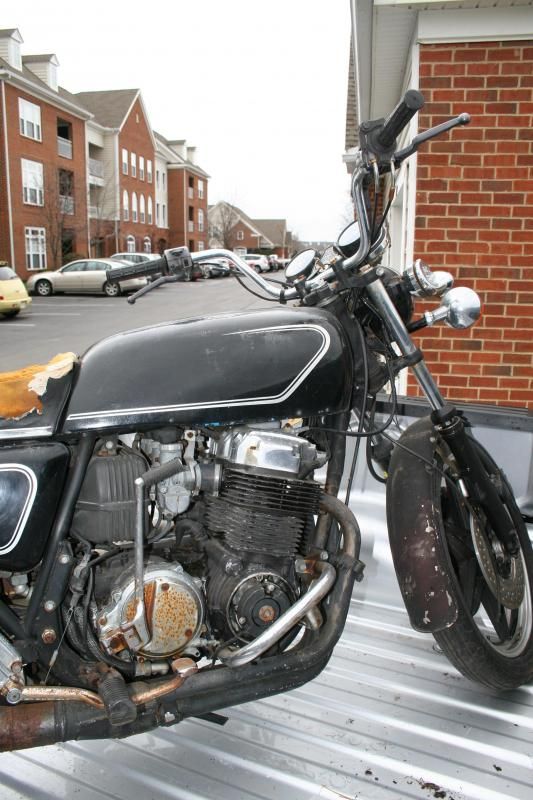 but the brakes still work, as does the electrical and it's still pretty clean for something that looks like it was ridden hard and put away wet for 32K miles.
So, Like I said, we are going to take a beginner's approach to this bike and talk about the basics. I am going to update once a week but I encourage other members to add to this thread if they have a tip or trick or something they do differently than I do and would be helpful for a beginner.
Cheers and Happy New Years!!!!!